This music meme is everywhere, and it's so wrong
10 September 2019, 18:18 | Updated: 16 September 2019, 11:19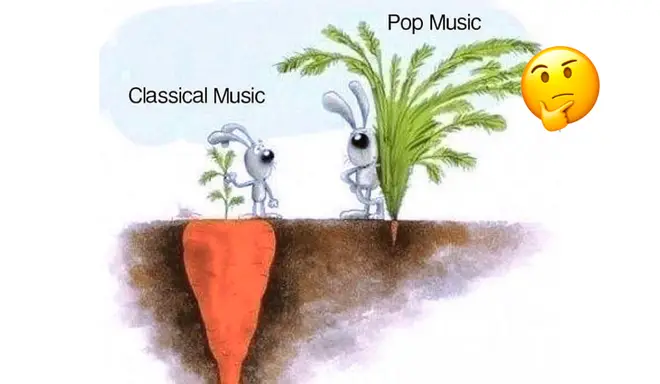 Classical music versus pop? We've got some strong thoughts on this one...
In recent days a music meme has been widely shared on social media. It uses carrots and leaves to suggest a difference between 'classical' and 'pop' music genres. The post on Facebook page Classical Music World Wide has now been shared over seven thousand times.
Memes are fun, and we don't usually take them too seriously (we promise). However, we had a few thoughts about this one.
The meme repurposes another meme, 'Success is not always what you see', shared on 9gag and elsewhere a few years ago.
There is no classical music versus pop music
The history of classical music tells the story of blurred boundaries between classical forms and the popular music of the time. Gershwin and Stravinsky dived into jazz, Bach and Couperin composed suites in popular dance styles, and Chopin wrote salon music. Schubert based his Lieder on the music you'd usually have found in homes and salons.
And many composers of rock and pop explore things from the opposite direction: Billy Joel's piano music, Jonny Greenwood's film scores, or The Beach Boys' pitch-perfect harmony and counterpoint are all good examples.
Styles, conventions and manners of composition may differ, but we reckon there's no such thing as pure musical genres, in black and white with walls in between. Every boundary has been blurred so many times over the centuries, all one can say with any accuracy is: music is music.
'Depth' and 'success' in music is subjective and not technical
If you feel a piece of music has depth, richness, emotions, fascination, life or mystery, that's one of the greatest feelings in the world. There's not a formula for it, it's what you feel, and like all experiences of art and creativity, it's unique to you.
Musical complexity does not equal depth. It's not the number of notes, it's how those notes make you feel. And that's true if it's a mind-bending double fugue, an Ed Sheeran chord progression, or the two chord Adagio movement from Bach's Brandenburg Concerto No. 3.
Pop music can have huge musical depth
Check out an epic Lady Gaga key change that lands bang on the Golden Ratio, the depth and character of Beyonce's voice, the compositional genius of Lennon/McCartney (we believe they were quite popular), and the use of tonal ambiguity in Ariana Grande's Thank you, Next. Pop music might often be intentionally catchy, sharable and digestible, but peel back a few layers and we think you'll often find musical depth (and/or a big carrot).
And we're sure that both Franz Schubert and Lady Gaga will both confirm that a lot goes into a three minute song.
Classical music DOES have broad and immediate appeal
Classical music can reap powerful, immediate rewards, just as pop music does. Think the 'Nessun Dorma' at the football world cup 1990, the climatic cadence of Mahler Symphony No. 2, the ear-worm that is Ravel's Bolero, or that moment of Mozart in The Shawshank Redemption. Classical music's carrot leaves can be very big too!
We don't need to diminish other genres
We can all agree that classical music is awesome. But we don't need to talk down any other style or musical experience to make that point. Let's use our time celebrating the amazing things within classical music and its glorious blurred boundaries. It stands by itself just fine.
Oh, by the way, we fixed the meme: