Breaking: it turns out Donald Trump is not a naturally gifted lyric tenor
4 August 2016, 15:48 | Updated: 11 January 2017, 14:26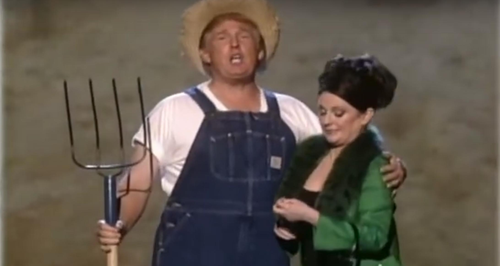 Who knew that Donald Trump was capable of belting out a random sitcom theme while dressed as a farmer? Not us…
During the 2005 Emmy Awards ceremony, the then-businessman, now-Republican Presidential candidate Donald Trump was the unexpected star of a musical number.

Performing the theme song for sitcom Green Acres (us neither), Trump appears on stage with Will & Grace star Megan Mullally.

Can't really believe this happened, but here we are:
To be honest, it's a fairly lifeless interpretation of the song, but we think Trump might have something approaching a tuneful voice in there somewhere. He had gusto, for sure, but he can't translate it into nailing that relatively simple melody.
Donald Trump once punched his music teacher in the face
Here's the original, for reference:
In case you were wondering, that theme song was written by the great Vic Mizzy, who also wrote the indelible theme tune for The Addams Family.
Donald Trump's tweets about classical music are exactly as you'd expect
Equivalent video for Hillary Clinton was not available.