This is without doubt the biggest-sounding recorder we've ever heard
20 February 2017, 14:31 | Updated: 20 April 2017, 16:27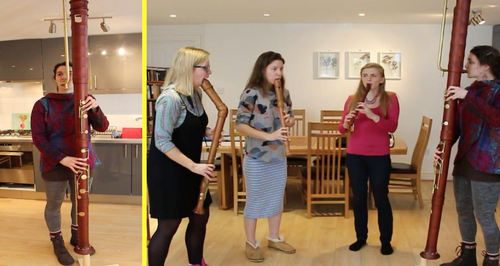 You won't believe how beefy it sounds. Or how big it is...
This GIGANTIC instrument is a contrabass recorder.
It is six feet high, meaning it towers above the average performer. In fact, it is so tall that there is a noticeable delay between the player blowing into the instrument and a sound being produced, therefore the player has to learn to play slightly ahead of the beat.
Recorder quartet Palisander recently held a 24 hour 'recordathon' to raise money to buy a contrabass recorder. Although the instruments can retail at upwards of £3,000, the group successfully managed to raise a staggering £4500, allowing them to use some of the money to fund their debut album Beware of the Spider, on top of purchasing a contrabass recorder.
You can hear the contrabass recorder below. If you enjoy this video, why not check out the contrabass recorder playing Vivaldi with the rest of the Palisander Quartet here.