These are the 16 most essential concertos in all of classical music
17 January 2017, 16:20 | Updated: 17 January 2017, 16:30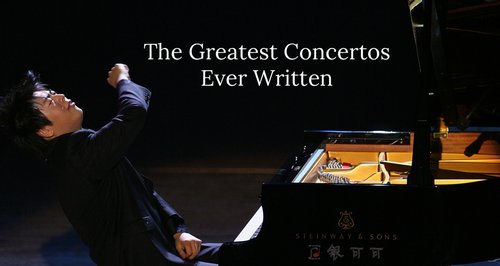 The concerto is the ultimate musical form for instrumental virtuosity - but which ones are the best of the best?
Bach - Concerto for Two Violins in D minor

When you're tired of playing on your own, it's time to get a friend round. For violinists, that means learning the subtle intricacies of what is commonly known as the Bach Double - a gorgeous, stately work that demand much of the performer and little of the listener.
Barber - Violin Concerto

Like the other great American concerto from this time, Copland's for the clarinet, Barber's knack in his only violin concerto was to take a chance on the instrument's character. In fact, during the composition of the concerto, the intended soloist Iso Briselli was worried that it wasn't technically challenging enough. But of course, the real challenge was in the performance, the character, the magic of Barber's musical language.
Bartok - Concerto for Orchestra

Turning the very idea of a concerto inside out, Bartok's Concerto for Orchestra serves as a tour of the whole ensemble that highlights several instruments in turn. It's like a utopian, mega-inclusive vision of what a concerto can be. And though quite a few composers have used this format too, Bartok's has rightly risen to the top - there's nothing quite like it.
Beethoven - Piano Concerto No. 5 in E flat ('Emperor')

The most famous of Beethoven's piano concertos and perhaps of all his concertos in general, the Emperor, like its title suggests, towers above the piano repertoire. Those who attempt it, and almost everyone does eventually, must contend not only with the notes themselves, but with the reputation those notes have in music history.
Beethoven - Violin Concerto in D major

It's the only violin concerto he wrote, and Beethoven made sure it was a good one. He wrote brilliantly for the instrument elsewhere, but the violin concerto sees him employing his most characterful melodies and some daring compositional experiments. Yet somehow, when it was written, it was considered a bit of a flop. Fast-forward a couple of centuries, and it's one of the most performed concertos in the violin repertoire.
Brahms - Violin Concerto in D

The master of the romantic melody, Brahms really extended himself with his only violin concerto. It was dedicated to the violinist Joseph Joachim, who ranked it alongside Beethoven's as the most serious in all the violin repertoire. A popular refrain among violinists is that its difficulty is almost excessively demanding and awkward - but still, it remains an audience favourite.
Bruch - Violin Concerto No. 1 in G minor

No-one likes a show-off. Well, unless they're playing the last movement of Bruch's first violin concerto. As showstoppers go, this one is seriously hard to beat, so it's no wonder worldwide audiences still go nuts for it.
Copland - Clarinet Concerto

It's not big, but it sure is clever. Few concertos would open so strikingly as this, with the most plaintive and deceptively simple melody line, shot through with incomparable melancholy. To then effectively explode all that hard work by making a transition to shocking, exposed acrobatics in the vigorous closing section takes guts and poise - and that's just from the composer. An electrifying work.
Elgar - Cello Concerto in E minor

Composed late in Elgar's career, this towering and emotional work has taken on a life of its own since it was consummately commandeered by cellist Jacqueline du Pré. Her story, and Elgar's story for that matter, are what cellists these days have to consider when they pick up the bow for this monster piece.
Grieg - Piano Concerto in A minor

Can you think of a better opening to a concerto than that declamatory piano clank? What's so satisfying about Grieg's only piano concerto is that even after such a boisterous beginning, it doesn't let up - the melodies, the divine middle movement and the epic clatter of the orchestral ending all combine to make one of the most accessible and lasting concertos ever written.
Mozart - Horn Concerto No. 4 in E flat

Mozart's concertos had this innate understanding to them, a feeling that no matter which instrument he was composing for, he understood it fully. That's perhaps why he composed so many - and while the piano concertos and clarinet concerto get the headlines, this perennially popular horn concerto literally couldn't be written for any other instrument. And that's why it works.
Mozart - Clarinet Concerto in A

It's a rite of passage for clarinettists learning their trade, but despite its comparatively simple (don't get us wrong, it's not easy) notes, it can take a lifetime to master the character. And that second movement alone basically guarantees its entry on this list.
Rachmaninov - Piano Concerto No. 3 in D minor

The most famous of Rachmaninov's three piano concertos and the logical centre of his compositional output, the Rach 3 (as those in the biz call it) has achieved legendary status. It occupies that magic space between accessibility and dazzling technical fireworks perfectly and, crucially, Rachmaninov remember to throw in some frankly huge melodies too.
Rodrigo - Concierto de Aranjuez
One of the most immediately recognisable concertos in classical music, Rodrigo's sultry, buoyant work is an exploration of the guitar's complete range and, inevitably, brings to mind the swelter and romance of Spain.

Shostakovich - Cello Concerto No. 1 in E flat

Not always the most tuneful but, if you work with it, the Shostakovich cello concerto will repay you far more than you give it. The melodies are buried deep below textured, innovative layers of sound, waiting to be unearthed and hummed, but Shostakovich asks a lot of the listener. Perhaps that's why this is one of the most enduring of his works - the conversation is never really over.
Vivaldi - Mandolin Concerto in C

It might not feature the fireworks and histrionics of its latter day counterparts in the concerto world, but the way in which Vivaldi skilfully uses the mandolin, a difficult instrument to write for, as a weave throughout the fabric of the baroque orchestra is possibly one of the finest examples from its time.