The 7 greatest cadenzas in classical music
12 June 2019, 21:47
When the soloist goes it alone, something very special happens. Here's seven of the very best instances.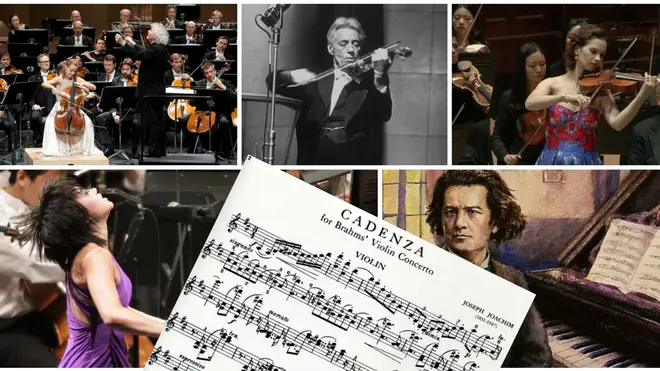 Beethoven's cadenza for Mozart
Mozart's Piano Concerto No. 20 in D Minor, K. 466, was given its premiere in Vienna on 22 February 1785, with the composer at the piano. Sadly, Mozart's own cadenza was lost. But a few years later in 1809, Beethoven put pen to paper and wrote his own. It's everything you'd hope for with mashed-up Mozart lines in a style that's pure Beethoven. It's full of contrasts and unexpected twists and turns and a fantastic final flourish: pure musical genius.
Joachim's cadenza for Brahms
Brahms wrote one violin concerto and it was dedicated to Joseph Joachim, his closest friend and also pretty much the greatest violinist of his time. Joachim penned a stonker of a cadenza for the climax of the first movement. It fits his best buds music perfectly: it pushes technical boundaries but is never too showy, and it's full of tenderness, inventiveness and melancholy.
Kreisler's Beethoven solo
The great Austrian violinist and composer, Fritz Kreisler has given us one of the greatest of all cadenzas. Brimming with musicality and virtuosity, Kreisler's climax to Beethoven's sublime concerto is pure magic, and a favourite of pretty much every violinist in the world.
BEETHOVEN Concerto for Violin and Orchestra - Hilary Hahn, violin
Shostakovich's Cello Concerto No. 1
At the 2/3rds point of Shostakovich's brilliant concerto, the orchestra dies away, leaving just the solitary solo instrument. Shostakovich takes melodic fragments from the previous movements and draws them into an expansive, improvisatory solo. The result is striking, searching and moving. Listen out for the DSCH motive too (D, E flat, C, B natural – the composer's musical signature).
D. Shostakovich - Cello Concerto No. 1 in E-flat major, Opus 107 (Live)
Prokofiev's Piano Concerto No. 2
Hold on for this one. It's epic. This cadenza arrives early and somewhat unexpectedly in the opening movement. Flowing, subtly dissonant lines become more stormy before Prokofiev erupts into one of the most intense passages of solo music you could imagine, with thundering bass and arpeggios turned up to 11. Then glissandos, and the orchestra enters again. Wow.
[HD] Yuja Wang Prokofiev Piano Concerto No. 2 in G minor Op. 16 - Paavo Järvi
Bach's Brandenburg Concerto No. 5
Without question, the greatest cadenza ever (we're calling it). Bach's Brandenburg Concertos are all fantastically virtuosic and inventive, but nothing tops this moment when in the D where the harpsichord elbows everyone out and takes over the show. There is little doubt that J. S. Bach was the greatest keyboard player of his time, and his cadenza is a complete and expansive display of virtuosity for the crowds. It's gigantic, ridiculous, and utterly enthralling. Prog Rock started here...
Bach: Brandenburg Concerto No. 5 in D major, BWV 1050 (Freiburger Barockorchester)
Chick Corea, new ones, and jazzy ones
Cadenzas to the great concertos are of course still written today. A modern cadenza can bring the listener from the 18th Century into the 21st and back again, all within the space of a concerto movement. Sometimes abrupt, sometimes sympathetic. Great examples include the Mozart flute concerto cadenzas penned by the Finnish composer Kalevi Aho, and Mozart piano cadenza's from the prog-jazz pianist Keith Jarrett, as well as this one from fellow jazzer Chick Corea...
Mozart - Piano Concert № 20 in D-Moll, 1.Allegro (Chick Corea and Bobby Mcferrin Version)