8 of the best apps for beginner musicians – and where to download them
3 April 2019, 11:56 | Updated: 3 April 2019, 14:44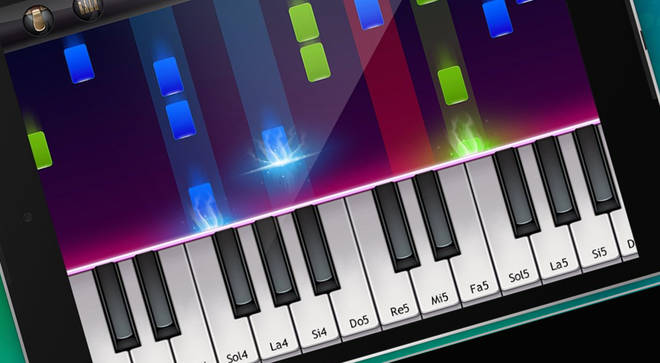 From perfecting your piano skills and brushing up on your music theory to improving your vocal technique, here are some of the best apps for music students
For budding musicians, picking up a new instrument or understanding the basics of music theory can feel like a challenge.
But there's a new generation of apps out there designed to help both established and beginner musicians. Gismart is one of the companies that has created apps to meet this growing demand.
Lana Meisak, VP of marketing at Gismart, told Classic FM: "I believe the popularity and success of our music apps and games lie in combining three well-balanced core elements: music, gaming and education.
"Mobile music games will continue to be influenced by three significant trends: simplification, collaboration and tech innovations. Simplification will deliver more accessible experiences. These products will have better potential to appeal to mainstream audiences."
But it's not just about people learning an instrument. As Lana explains, there's also potential for artists to reach a new audience through apps: "Artist collaborations will boost the growth of music gaming. Through gamified music-creation, artists can benefit from engaging with fans and promoting their music in a new way.
"Our recent partnership with The Chainsmokers in Beat Maker Go offered an opportunity to fans to play their music instantly. Tech innovations such as AI and machine learning will deliver more personalised experiences for users, especially across music learning and entertainment products."
Pablo Bozzone, director at app maker Orange Studios, also emphasises the importance of using technology to help get children into music.
Orange Studios' app Piano Kids - Music & Songs is aimed at introducing children to music and musical instruments for the first time: "[They can] learn to play fun songs, explore different sounds and develop their musical skills.
"It also offers a series of mini-games and activities that help to develop memory, concentration, imagination and creativity, as well as motor, intellectual, sensory and speech skills."
So, here are 8 of the best music apps to help get you started.
1. Piano – Keyboard with Magic Tiles Music Games, Gismart
With more than 50 million downloads, Gismart's Piano app is one of the most popular music learning tools on the market. This colourful electric keyboard simulator uses a selection of virtual instruments, including a grand piano, harpsichord and organ, to teach you all the basics – and they sound pretty realistic too.
One of the app's most successful features is its 'magic tiles' game, which plays you well known songs while a series of prompts appear on the screen, guiding you towards the correct notes. You can even write and record your own melodies or share your compositions with friends.
Download Piano on Google Play and the App Store.
2. Yousician – Learn Guitar, Piano, Bass & Ukelele, Yousician Ltd.
Designed by music experts, Yousician is your personal tutor in digital form and has already had more than 10 million downloads. Whether you're hoping to master the guitar, piano or ukelele, the app listens to you play before providing real-time feedback on key areas such as accuracy and timing.
Using step-by-step tutorials, gameplay to track progress, and hundreds of exercises and videos, you can learn to sight-read, strum and sing quickly and easily.
Download Yousician on Google Play and the App Store.
3. Piano Kids – Music & Songs, Orange Studios Games
Created specially for young children and their parents, this fun music box teaches users how to play musical instruments and discover new sounds.
Its bright and colourful design ensures that kids stay engaged, while four modes (Instruments, Songs, Sounds and Play) work together to boost memory, concentration, imagination and creativity.
From xylophones and drum kits to saxophones and flutes, plus additional animal, transport and comic sounds, the app is a great introduction to playing with sound.
Download Piano Kids on Google Play.
4. Violin: Magical Bow, Rubycell
String enthusiasts will love this free music app, which featured among the 'Most Entertaining' category in Google Play's 'Best of 2016' list.
Learn how to play the violin, viola and cello using a simulated bow, and play along to popular songs in Game Mode by pressing notes (with prompts) on the fingerboard.
For gamers with a competitive streak, the app also allows you to play and compete against your friends, with daily challenges to boost your score.
Download Violin: Magical Bow on Google Play or the App Store.
5. Music Theory Helper, Okram Apps
Most new musicians will agree that music theory can feel like a bit of a minefield, so Okram Apps released Music Theory Helper to make it that bit easier.
Whether you want to find out more about chords, intervals and note values or scales, symbols and rests, there's plenty of information on the app – which also offers a variety of exercises for improving your listening and reading skills.
Download Music Theory Helper on Google Play.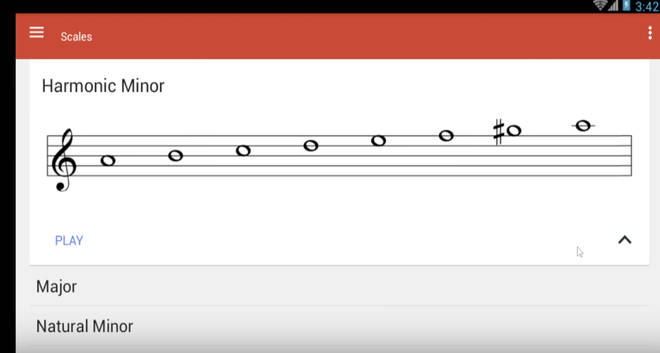 6. Air Conductor: Orchestra Sim, Micro App Brewery
If you've ever aspired to become the conductor of an orchestra, this musical app turns your phone into a virtual conductor's baton.
The conducted beat pattern determines the tempo of the MIDI playback and uses the accelerometer of your phone to detect beat patterns of 2/4 and 4/4, or you can set custom meters with the time signature feature.
The app's sample music library includes popular pieces from composers like Mozart, Tchaikovsky and Beethoven – so you can practise conducting to your favourite tunes – or you can add your own MIDI files.
Download Air Conductor: Orchestra Sim on Google Play.
7. The Metronome, Soundbrenner
As any musician knows, a metronome is an essential tool when you're learning a piece – it's the device that counts time at a selected speed by giving an audible tick.
Helping you to play with precision, this smart app allows users to change the time signature, choose a subdivision and even set accents.
Whether you're a beginner or professional, it's ideal for daily practice and you can save your own rhythms or sync up to five other metronomes with the Multiplayer Synchronisation feature.
Download The Metronome on Google Play or the App Store.
8. Maestro – Music Composer, Future Sculptor
For budding songwriters and music students, Maestro is ideal for composing while on the move.
Write musical notations, such as notes, key signatures and time signatures, for 127 MIDI instruments – including the piano, organ, cello, guitar, pipe and drums – and use the playback functionality to hear your masterpiece.
Then, simply export it to your device or upload your piece to the app's 'Concert Hall' if you're interested in receiving feedback from other users.
Download Maestro on Google Play.