Alexander Armstrong: everything you need to know about the Classic FM presenter and 'Pointless' star
29 May 2020, 16:39 | Updated: 29 May 2020, 16:45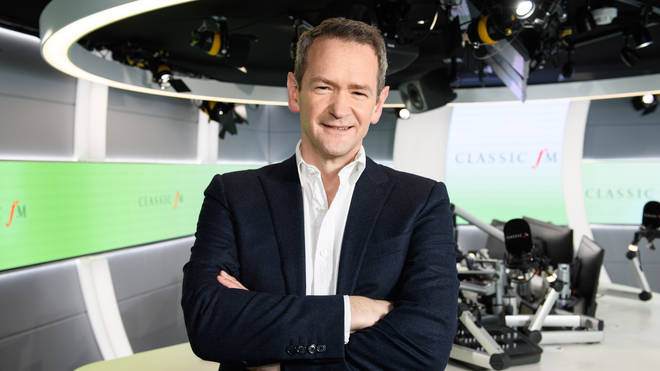 He's the host of Classic FM's mid-morning programme – but you might also recognise him from a certain 'Pointless' TV show. Here's everything you need to know about Alexander Armstrong.
Most people recognise Alexander Armstrong as a television and radio presenter, but did you know he's also a classically trained bass-baritone who's topped the music charts?
Alexander began his entertainment career in acting and comedy, making his name as one half of the popular comedy duo, Armstrong and Miller. Following the show's success, Alexander went on to present some of the biggest programmes on television and radio, and has now been entertaining the nation for over 20 years.
He's a regular fixture on TV screens across the nation as the host of game show Pointless, and has just been announced as the new presenter of Classic FM's flagship show, weekdays from 9am to 12pm.
Here's everything you need to know about Alexander, from his singing and acting career, to his family.
Read more: Learn more about Alexander Armstrong's albums, family and singing >
Alexander's career in television

Alexander's career in TV spans over a decade. His first major role was co-starring in four series of Armstrong and Miller from 1997 to 2001 alongside comedy duo partner Ben Miller.

He's now most familiar as the knowledgeable host of the weekday game show Pointless, a role he's held since the show began back in 2009.

What TV programmes has Alexander Armstrong starred in and presented?

Picture: Getty

Before he became one of Britain's best known quiz show presenters, he starred in a host of panel shows, including Have I Got News for You. He also presented the quiz show Epic Win.

Any parents out there might also recognise Alexander's dulcet tones from the children's show Danger Mouse, after he succeeded David Jason as the voice of the titular character in 2015.

Can Alexander Armstrong sing?

Alexander is a classically trained bass-baritone, with three studio albums to his name.

He cut his teeth as a choir boy at Durham Cathedral, and was later awarded a choral scholarship at Trinity College, Cambridge. He even considered going on to study at the Royal College of Music... before he met Ben Miller.

It was after meeting Miller, Alexander says, that he decided to put music "on the backseat" as he "couldn't see how to make a career out of it", he told the Standard.

But after a decade in television entertainment, Alexander revisited his musical roots and formed the memorably-named cover band, 'Alexander Armstrong And His Band'. The ensemble went on their first tour at the end of 2013.

The singer's first album, A Year of Songs, was released in 2015 and debuted at number one in the Official Classical Artist Albums Chart.

Since then, Alexander has released two more albums: Upon a Different Shore (2016) and In a Winter Light (2017).

Who is Alexander Armstrong's family?

Alexander Armstrong married his wife, Hannah Bronwen Snow, on 27 August 2003, and together they have four children: Henry, Patrick, Edward and Rex Armstrong.

The family live together in Oxfordshire.

Who is Alexander Armstrong married to? And does he have any children?

Picture: Getty

Speaking to The Guardian in 2017 about family life, Armstrong said: "Fatherhood is lovely but there is this slightly shocking moment when you realise it is not something you just wear and take off.

"You have to tread a fine line between making family life wonderful, and nourishing and wholesome, but you also don't want to shirk your duties as a parent."
Listen to Alexander Armstrong on Classic FM's flagship show, weekdays from 9am to 12pm. Send him a message here!