Children perform a Star Wars concert (with lightsaber violin bows) a week after a fire at their school
20 May 2016, 12:40 | Updated: 12 January 2017, 14:55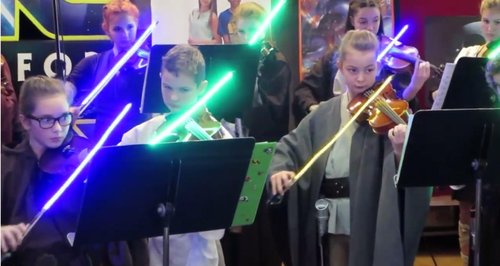 The elementary school children played on even when their backing track cut out.
A group of schoolchildren performed a concert of Star Wars music at a Quebec City cinema just a week after their school, Ecole de L'Harmonie, was forced to close because of a fire.
Watch: Star Wars cast sing the theme music >
Watch: the Star Wars theme played in a major key is awful >
The children, playing the Star Wars theme using lightsaber violin bows made by their excellent music teacher Philippe Amyot, were completely unruffled when the backing track suddenly cut out due to a problem with the CD player. Later, even the presence of Darth Vader and a stormtrooper didn't break their concentration while performing the Imperial March.
Star Wars theme
Imperial March (as Darth Vader and a henchman looked on approvingly)
Yoda's Theme: