Watch Bobby McFerrin SING Vivaldi's double cello concerto
23 February 2017, 16:17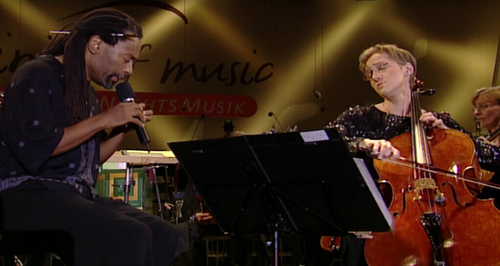 This video proves the cello really is the closest instrument to the human voice.
The clue is in the title - Vivaldi's Concerto for Two Cellos in G minor was undoubtedly composed for two cellos. However, the innovative vocalist Bobby McFerrin is known for not always doing things by the book.
During the Spirits of Music open air festival in the grand Marktplatz in Leipzig, Germany in 2002, Bobby McFerrin sang one of the two cello parts in Vivaldi's Concerto for two cellos in g minor, alongside cellist Veronika Wilhelm and the Gewandhausorchester Leipzig.
The tone of Bobby's voice imitates and compliments the cello and orchestra beautifully. The speed and precision with which he performs some passages in the 3rd movement is astounding, while his phrasing and breathing during the 2nd is flawless. To add further astonishment, Bobby performs the whole 11 minute piece from memory.
It's fascinating to watch how the two soloists interact with each other and the orchestra through eye contact and body movement, as well as the sound they are producing.
Why not also try listening a second time with your eyes closed? Do you perceive the sound differently? Watch the incredible performance here and let us know your thoughts: