Watch 40 cellists play the 40-part Renaissance motet 'Spem in alium'
6 February 2018, 18:23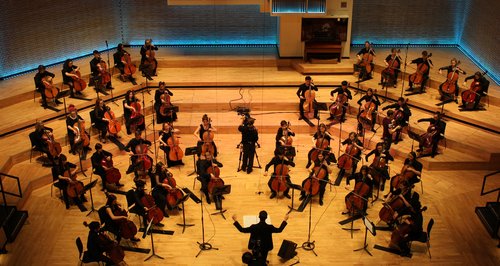 We're pretty sure this is what heaven sounds like... here's Thomas Tallis' choral epic in a stunning 40-cello arrangement for the Royal Northern College of Music's Strings Festival.
English composer Thomas Tallis composed this exceptional piece around 1570. Not content with trios, quartets or quintets of voices, in Spem in alium Tallis took the already elaborate style of Renaissance polyphony and wrote a motet for 40 independent voices.
The motet has moments of stillness with only a few parts singing (or in this case playing) the intertwining lines, with several rich, almost overpowering tutti passages with all 40 voices sounding at the same time.
But this performance didn't feature the usual voices. Instead, it was performed by 40 cellists (all students at the conservatoire), arranged and conducted by James Heathcote.
We reckon the blend and sonority of 40 independent cello lines, with the layers and harmonic clashes of Tallis' Renaissance writing might just be one of the most beautiful things you could ever hear.
And if you fancy the choral version, here it is (accompanied by a graphical score):
Many thanks to all the RNCM cellists involved (all 40 of them!)
Jack Bailey
Natalie Bechmann
Awen Blandford
Eleanor Boney
Yuuki Bouterey-Ishido
Miriam Brown
Eliza Carew
Mario Castello Cordoba
Isabella Dembinska-Kenner
Elizabeth Elliott
Otis Enokido-Linehan
Javier Escrihuela Gandia
Hikaru Fuminashi
Daria Fussl
Malcolm Goodare
Lucy-Rose Graham
Brooks Griffith
Finlay Hare
Rachel Hoffman
Lucy Hoile
Cara Janes
Waynne Kwon
Alice Luddington
Ruby Moore
Rachel Morton
Reyan Murtadha
Lucinda Neil
Rachel Newbold
Ellen Porter
Lola Ramirez
Eva Richards
Megan Rolf
Kotryna Siugzdinyte
Alec Smith
Gabriel Solano
Paphanin Sukemoke
Amy Surman
Charlie Walker
Harriet Walker
Isabel Williamson