This is what happens when you play a Satie Gymnopedie with a load of rubber bands on your fingers
31 January 2017, 16:48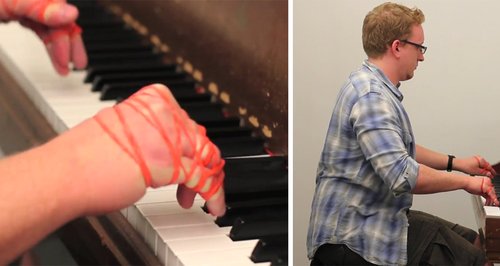 Erik Satie's tranquil Gymnopedie No. 1 is given a radical reinterpretation by a bloke with access to a whole bunch of elastic.
Pianist Tristan McKay gives it a really good go, but ultimately (spoiler alert) the rubber bands were victorious.
Gymnopédie No.1. Performed by Tristan McKay, with an entire packet of rubber bands around his fingers. from Michaela Davies on Vimeo.
The video comes from a series called Obstructed Recitals, which features a whole host of musicians struggling against self-imposed obstructions.