7 reasons you need to listen to some Carl Nielsen right now
1 August 2017, 11:38 | Updated: 1 August 2017, 11:53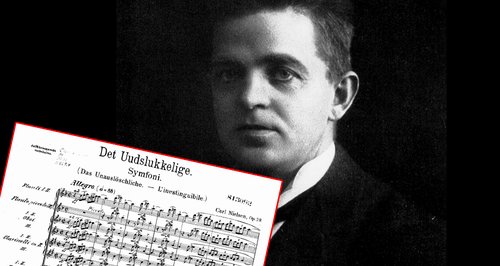 The great Danish composer does not get the attention his music truly deserves. So we're here to change that and to tell you exactly why you need to get him on your headphones right now.
Carl Nielsen was born to a poor family in Denmark on 9 June 1865 and went on to become one of the world's greatest composers – and, by some margin, the most famous Danish composer who has ever lived. But outside Denmark, his music isn't at all well known. And we think it's about time that changed.
His Violin Concerto
Let's start with Nielsen's Violin Concerto. It was written in 1911 and is a gorgeous piece of music that refuses to be pigeon-holed – at times lush and Romantic, at times folk-inspired but with at least one foot in the 20th century.
He's appeared on a Danish bank note
He's (by some margin) the most famous composer Denmark has ever produced. So, as is only right and proper, they put his face on a bank note. Until recently he graced the front of the hundred-kroner bank note (worth just under £10).

His symphonies have the best nicknames
'The inextinguishable' – or, to give it its more prosaic name, Symphony No.4, is one of the best loved and most regularly performed of the great Danish composer's works. It could be because of its sweeping soundscapes, infectious melodies, rich orchestration. Or it could be because it has such a great nickname.
It also includes this awesome timpani section:
On another note…
Here's a young Nielsen channelling the photobooth… decades before they were around. How could anyone not love a composer with such impressive gurning skills?
Those days when you wake up feeling blue? Nielsen knows where your coming from.
Nielsen wrote a symphony about that. It's called 'The Four Temperaments' and includes movements called 'Melancholic' and 'Phlegmatic'. 'Melancholic' really does sound like Sunday-night-blues in musical form. But here's the final movement instead, 'Sanguine' – a musical portrait of a cheerful, contented person. Lovely.
This song
Nielsen wrote hundreds of songs and if they're all as beautiful as this, they should be WAY better known. This sounds like Brahms, Bruckner and Elgar all rolled into one. You need this song in your life…
Basically, Nielsen had life sussed
This is one of Nielsen's most famous quotes. He's not wrong.