The breath control in this astonishing bass solo will make your diaphragm hurt
1 August 2016, 17:10 | Updated: 2 August 2016, 11:58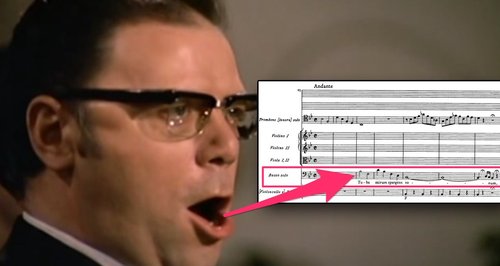 This live performance of the Tuba Mirum from Mozart's Requiem features an especially dazzling bass solo at the beginning.
Ask a singer what the most important thing about their technique is, and they'll say 'Is there a free bar after the concert?' But then they'll probably say, 'breath control'.

It's something that singers have to work on so that they don't end up emptying their lungs with half a bar still to sing.
Well, if you're looking for a masterclass, how about this:
The whole performance is pretty stellar, but that opening bass entry from Walter Berry is basically what dreams are made of. Look how he manages to keep a totally straight face the entire time, with completely consistent tone throughout.
Hat-tip to the wonderful Classical Music subreddit for pointing this one out.
Basses: can you do better?
We know you're out there, and we know you're singing along. But if you want to prove that you can nail this iconic line yourself, then why not record a video of yourself performing it? Sort-of like the #rachchallenge, but with a trombone solo at the beginning.