Mozart: Horn Concertos - Pip Eastop
An extraordinary performance on the natural horn. Classic FM's Album of the Week, 29 December 2014-2 January 2015.
Mozart's Horn Concertos are perhaps the most popular works ever written for the instrument. These new recordings showcase all the works the composer wrote for his lifelong friend, the horn player Joseph Leutgeb, who was one of the foremost players of his day.
In these works Mozart reinforces the personality of an instrument which most people associated with hunting. But he also created more lyrical moments, especially in the slow movements, which showed off the heart and soul of the instrument.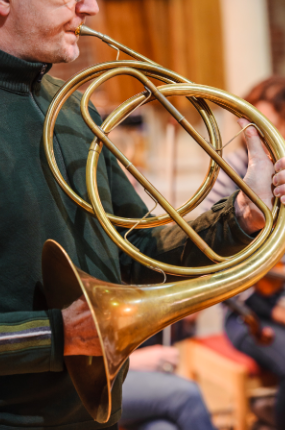 Natural horn player Pip Eastop gives these pieces an extraordinary immediacy and authenticity. His superb technical ability and inventiveness are put to brilliant use in these very enjoyable renditions. He is ably accompanied by The Hanover Band conducted by Tony Halstead, who has also provided an ending for the unfinished second Horn Concerto.

In this picture (left), Eastop is seen playing the natural horn. Below is a shot of the album being recorded at All Saints in East Finchley, London. Photos © Graham Salter.