Final work by Peter Maxwell Davies premiered at Battle of Jutland memorial
31 May 2016, 11:11 | Updated: 31 May 2016, 11:54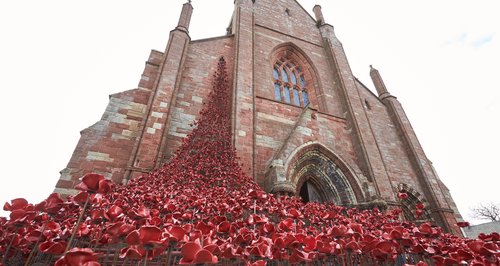 Former Master of the Queen's Music completed choral piece shortly before his death.
A work composed by Sir Peter Maxwell Davies just before he died in March this year received its first performance at today's Battle of Jutland centenary commemorations in Orkney.

The piece titled The Golden Solstice was performed by the Choir and Organist of St. Magnus Cathedral in Kirkwall at this morning's service, commemorating the First World War's largest naval battle and the only full-scale clash of battleships in the war.

The Golden Solstice sets the words of poet George Mackay Brown, who spent his life in Orkney and was a close friend of the composer.

"Sir Peter was one of the UK's finest composers and through his magnificent work, we will pay tribute to his adopted home of Orkney and to all those who served at sea during the First World War," said Culture Secretary John Whittingdale.
The Battle of Jutland, which was fought between 31 May - 1 June 1916 involved more than 100,000 sailors on 250 ships. More than 6,000 Royal Navy and 2,500 German sailors were killed.
"Music is a powerful way to help tell their story and honour their memory," said the Culture Secretary.

The service was attended by German President Joachim Gauck, The Princess Royal and descendants of those who served at the Battle of Jutland, and local residents. The Duke of Edinburgh withdrew from attending on the advice of his doctors.