Simon Pegg: 'I'm a big apologist for Star Trek: The Motion Picture'
21 July 2016, 11:45 | Updated: 24 July 2016, 14:43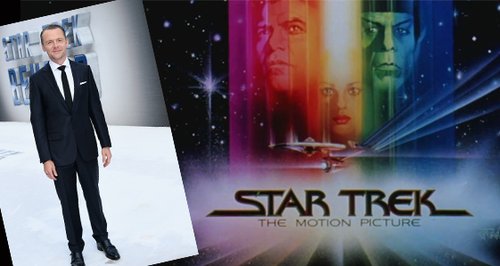 Simon Pegg, co-writer of Star Trek: Beyond, says he loves the much-maligned 1979 outing of the USS Enterprise - and the music of the late James Horner on Star Trek II: The Wrath of Khan.
Even Star Trek's creator Gene Roddenberry and actor Leonard Nimoy weren't fans of the big screen comeback that saw the original crew of the USS Enterprise reunited ten years after the original TV series.

But Simon Pegg, who plays Chief Engineer Scotty in the rebooted franchise and has co-written the latest film Star Trek: Beyond, says he's a big fan of the first film.
He told Andrew Collins in an interview with Saturday Night at the Movies that he loves it.
Catch up: Simon Pegg on Saturday Night at the Movies >
"Star Trek: The Motion Picture was closer to 2001 [A Space Odyssey] than to Star Wars. It was very talky, very grand," says Pegg. "I think the introduction of the Enterprise is about eight minutes long! But the music for the first time you see the Enterprise is very loving.
"It was very much for the people who were happy to see Star Trek back.
"A lot of people dismiss the Motion Picture because it's not quite as fun as what came after, but I love it. I'm a big Motion Picture apologist, me." And, he points, out, Jerry Goldsmith's score went on to be used in the spin-off series Star Trek: The Next Generation.
Simon Pegg on Star Trek: The Motion Picture
For Star Trek II: The Wrath of Khan in 1982, newcomer James Horner was hired to write the music because they couldn't afford A-lister Jerry Goldsmith, who scored the first film. Horner, who went on to compose Avatar, Titanic and Braveheart, made his name on Khan. In fact his subsequent success was such that for 1991's Star Trek VI: The Undiscovered Country, producers couldn't afford Horner either.
Simon Pegg says he's a huge admirer of Horner's music for Khan. "It is such a stunning score," he says. "It's so full of exciting fanfares. The Spock Theme is so beautiful... so moving.
"With James Horner's work on it, it's become the most beloved of all Star Trek movies."
Simon Pegg on Star Trek II: The Wrath of Khan
For Beyond, director Justin Lin returned to composer Michael Giacchino, who has scored the last two Star Trek movies. Simon Pegg tells Classic FM they've been blown away by the new score.
Simon Pegg on the score for Star Trek: Beyond
Pegg is in awe of film composers and their skill.
"Just the intuition and the ability to read visuals or read the mood of a scene – and be able to then recreate that mood in music – is something that I find utterly baffling," he tells Andrew Collins.
Simon Pegg on film music composers