7 reasons why you should be listening to Fauré right now
21 November 2017, 13:12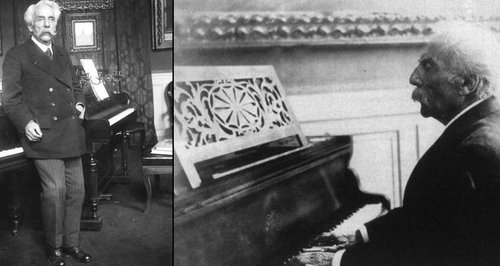 The music of French composer Gabriel Fauré is simply exquisite. Known chiefly for his Requiem, there are many other reasons why you should be listening to the exceptionally gifted composer right now...
Gabriel Fauré was quite the trendsetter in the late 19th and early 20th centuries (and we're not just talking about his magnificent moustache). Here are 7 reasons why you should be listening to the extremely talented, and arguably underrated French composer RIGHT NOW:
1. His work influenced many 20th Century Composers
Fauré wrote delectable music that's easy on the ear, but said that creating it was "like a sticking door that I have to open." He was dismissed by Debussy as "a master of charms", although the subtle intimacy of his output influenced a generation.
2. He was taught by Camille Saint-Saëns
Gabriel Fauré was born in 1845, son of a schoolteacher. His musical abilities were spotted early in his childhood and the principal of a new school of church and classical music in Paris was so impressed that he offered the 8-year-old boy a free place. When he was 15, he began composition lessons with Camille Saint-Saens, and the two of them became lifelong friends.
Under the guidance of such an encouraging teacher, Fauré developed a very individual musical style, but he was never particularly ambitious.
This gorgeous piano Barcarolle is all about going with the flow, from minor to major, and then with a little flurry of emotion back to that wistful minor-key tune again. The Barcarolle was originally a song sung by Venetian gondoliers, and its rocking rhythm is soothing and sensuous at the same time. If you don't know Faure's 13 Barcarolles, check them out!
3. He was self-deprecating, so we need to show appreciation for what he did not
Fauré's Pavane is filled with quaint lyrics about the romantic helplessness of humankind, a piece that he called "elegant, but not otherwise important." We disagree with the second half of that statement.
4. He favoured smaller-scale music, but that didn't stop his compositions being any less dramatic
Throughout his life, Fauré excelled in small-scale music – he never wrote a symphony or an opera. But that doesn't mean he had no dramatic instinct, and his incidental music for various plays was always well-received. Perhaps the most famous of his theatre scores was for Maeterlinck's drama Pelleas et Melisande, and the suite he made of it is still popular today.
5. His passionate Romance will tug at your heartstrings
Fauré went through his very own tale of doomed love. In his twenties, he fell deeply in love with Marianne Viardot, daughter of a famous opera singer: they became engaged in 1877, but Marianne called off the wedding and the heartbroken young man plunged himself into his music. The Romance for violin and piano was written around this time, and its simple stepwise melody, leading to a brief outpouring of passion, is so tender you can't help thinking of the girl who may have inspired it.
6. He was an exceptionally hard worker
Although he became internationally famous in his fifties, he never made enough money to give up his teaching work: throughout his career, he was only free to compose during the summer holidays.
7. And of course, we couldn't leave out his Requiem...
The piece was almost certainly a musical tribute to his father, who died in 1885, three years before work on the Requiem began.