'Sitting in front of the same black and white notes as Beethoven and Wagner is terrifying' – we talk to top film composer Ilan Eshkeri
26 August 2016, 13:57 | Updated: 30 August 2016, 09:15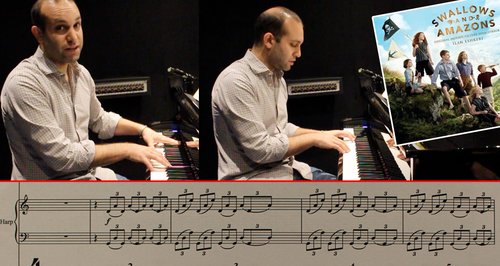 Ilan Eshkeri has written music for blockbusters including Stardust and Still Alice. His latest soundtrack is for the film Swallows and Amazons – we asked him to introduce the music, play some clips and tell us how he overcomes the fear of the blank page.
The soundtrack for Swallows and Amazons has been John Suchet's Album of the Week all this week – and you can hear part of the score on this weekend's Saturday Night at the Movies.
So when you first sit down to write a film score, how do you get started?
The key thing, according to Ilan, is easing the pressure of starting a brand-new movie score: 'Can I write a work of genius by the end of the day and go and have a pint with my friend? Probably not. But could I do something average by 6 o'clock? I could definitely do that.'
There are four main themes in your Swallows and Amazons – what's the first that the audience will hear?
The Swallows and Amazons stories are all about the adventures of childhood and the wonderful invention of a child's imagination. So how did you capture the sense of adventure of the swallows?
The Amazons are quite different – but they're still children. What's their theme and how does it reflect them?
There's another theme that's much darker – tell us a bit about that.
And you can download the Swallows and Amazons soundtrack right now on Amazon and iTunes