This dance music artist has written a symphony, funded by her fans… and it's actually superb
2 December 2016, 09:31 | Updated: 2 December 2016, 09:46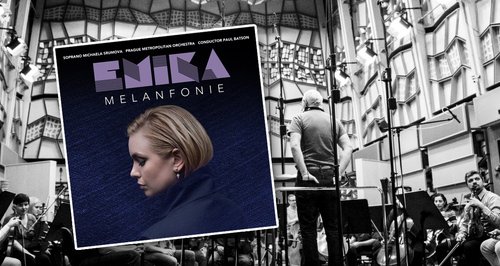 Enjoy this exclusive premiere of the new single from Emika's Melanfonie, entitled 'Love'.
Emika (real name Ema Jolly) has carved an influential niche in dance music, releasing albums on impossibly cool labels like Ninja Tune and enjoying international recognition as a superstar DJ.

But on the downlow, she also happens to be a classical music fan and a 'proper' composer - and she's now written and recorded an entire symphony, crowdfunded via Kickstarter by her fans who raised €25,000.

The sessions for Melanfonie took place in Prague, featuring soprano Michaela Šrůmová and the Prague Metropolitan Orchestra under the baton of Jolly's own school music teacher, Paul Batson.

Listen to an exclusive stream of 'Love' right now:
We asked Emika a few questions about the composition process itself, and where the best place to listen to 'Love' is:
What were your influences before and during the composition?
Michaela Srumova the soprano I composed the piece for, is my first muse. I look at her and I hear music, she walks into the room and I feel music in my heart.

I took many inspirations from my life, Michaela's life, the miracles and disappointments we've had, feelings of grief, memories of love, questions for destiny herself. I had a new vision for the orchestra; inspired the history of classical music, to make a piece which is traditional, lyrical, narrative, and for people to and be touched by universal themes of love and grief which we can all relate to.

I also fell in love with all recordings of Bruckner symphonies conducted by Karajan. Karajan invested in film productions too, developing new ways of filming the orchestra, he is a very interesting pioneer for me.

How do you go about making the transition from acclaimed dance music artist to classical composer? Did it feel natural?
I left my classical music education aged 18, after completing the Royal Associated Board grades for piano and chose to study Creative Music Technology at BA level to learn how to be a music producer and sound designer. I always wanted to be a composer and once I learned how to use MIDI I could get an orchestra sound library on my laptop and compose very cheaply using technology.

I improvise on the piano most days, and use this for developing my compositions.

If you listen to my electronic music, there are a lot of traditional cadences, sound layering which is comparable to classical symphonic writing, imitation, narrative and thematic developments. It's not as minimal or repetitive as current dance music which is often centred around the kick drum.

I have always been focused on creative my own sound signature which I use in both electronic and classical music - so I can bring these two worlds together through my own hand writing.


How has your experience of the classical music world been so far?
The musicians and performers are always incredibly devoted to music and dedicate their whole lives to performing, which means living and breathing music everyday and rarely resting. This can be hard and it is fiercely competitive work.

On the record business and theatre program side world-wide, I would love (of course) to see more investment and trust in new composers. I think the history of classical music casts a great shadow on the future of the orchestra.

Perhaps the next generations could be taught composing first, and playing Beethoven perfectly as second. However, composes today must find new beauty in music which captures people's hearts and is not uncomfortable to listen to as a lot of post modern orchestral music was.

What are the best circumstances for listening to this single, 'Love'?
Wherever your favorite place is to listen to music, perhaps in your car driving home from work, or walking with headphones. Anywhere where you can tune out from the daily stresses of life and listen deeply for 10 minutes. Michaela's silver-toned voice is so beautiful, she will take good care of you.
'Love' is officially released on December 5th - find out more at Emika's Facebook and Twitter.
The symphony itself, Melanfonie, is available to order here.