Did you know Bernstein borrowed a tune from Beethoven for West Side Story?
24 June 2021, 15:12 | Updated: 24 June 2021, 15:18
Beethoven - 5th Piano Concerto 'Emperor' (Zimerman, Bernstein, Wiener Philharmoniker)
41:25
'Somewhere' from West Side Story has nods to Beethoven's Emperor Concerto and Tchaikovsky's Swan Lake.
West Side Story is the 1957 Broadway musical that broke all our hearts. And at least a smattering of our Leonard Bernstein-shaped tears can be attributed to its poignant ballad, 'Somewhere'.
But did you know that its main tune ('there's a place for us') quotes the second movement (Adagio un poco moto) of Beethoven's 'Emperor' Piano Concerto No. 5?
That's this bit, in the Beethoven: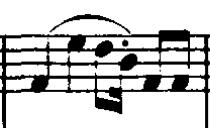 Bernstein directly quotes that opening minor seventh leap, a musical suggestion of hope with a hint of despair, as it falls just short of that neat, satisfying interval. The 'place for us' is a utopia Maria and Tony long for, but it's just out of arm's reach.
In Beethoven's version, the final note of the phrase sinks back down to the F sharp and returns to the first note in a lovely, neat motif. Bernstein, however, lifts the 'us' by a whole tone:

When we hear 'Somewhere' in West Side Story, tragedy has befallen the star-crossed lovers. Down at the rumble, Tony has stabbed Maria's brother Bernardo, killing him, despite his love for Maria.
Heartbroken but still besotted with Tony, Maria declares: "But it's not us. It's everything around us."
Bernstein's elevated 'us' signals a moment of hope and longing, rooted in pain.
Read more: 10 reasons why Tony from West Side Story is the most perfect man ever
It's a little less noticeable, but 'Somewhere' also quotes a longer phrase from the main theme of Tchaikovsky's beloved ballet, Swan Lake.
Here's the tune to Swan Lake:

And here's the third line of 'Somewhere':

The rhythms differ, but it's generally accepted that the ascending line moving up to the dotted quaver is a gentle nod to the iconic ballet theme.
Bernstein knew what he was doing with his nods to this great works for Romantic music. And they are a small but important part of the emotional impact of his famous musical. The great American maestro was inspired by all music, from Aaron Copland and George Gershwin to the Beatles, and profoundly believed that musical theatre can be art of the highest form.
Want to know more about the pure brilliance of West Side Story? Here's how it bridged the gap between opera and musical theatre.