LAST CHANCE: Get your free download of Beethoven's 7th Symphony
14 January 2016, 06:00 | Updated: 25 January 2016, 16:59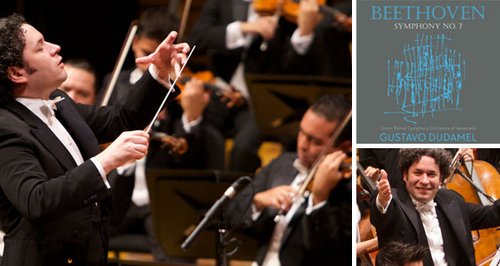 Gustavo Dudamel and the Simón Bolívar Symphony Orchestra of Venezuela are offering Classic FM listeners their brilliant recording of Beethoven's 7th Symphony. Download it for free by registering below before 23:59 on Monday 25 January.
One of the world's most exciting and inspiring conductors, Gustavo Dudamel, has arrived in the United Kingdom with the Simón Bolívar Symphony Orchestra.
They're playing three sold-out dates at London's Southbank Centre before heading off next week to Berlin, Munich and Cologne.

To celebrate their European tour, Classic FM has a world exclusive on Thursday 14 January: the first play of Dudamel and the Simón Bolívar Symphony Orchestra's stunning new version of Beethoven's Symphony No.7, recorded in Caracas in April last year.

When the symphony was premiered in Vienna in 1813, with Beethoven himself conducting, the second movement was so popular the audience demanded an encore. More recently that movement was magnificently put to use in the film, The King's Speech.

Listen to Classic FM throughout the day to hear all four movements from the symphony. Here's an extract:



Download the full symphony, absolutely free
Like what you hear? Simply register using the form below and we'll give you a link to your free download.
If you are viewing this page in the Classic FM app, you will need to open it in a browser to see the form and get your free download.
Your download will be delivered to your computer as a 'zip' file. You will need to 'extract' it before playing. If you are using a Mac, simply double click the file to do this. PC users should right click on the folder and click 'extract all'. Once you have done this, you will see a folder containing four audio files which correspond to the four movements of the symphony.
We advise you not to use an iOS device, such as an iPad, to download this piece. However, it can be downloaded via iOS if you have previously downloaded Dropbox from the app store.
This offer is only available to people with a valid UK postcode.
See Gustavo Dudamel live
Dudamel is performing in Europe and the United States in the coming months:
21 January: Gasteig, Munich, with the Simón Bolívar Symphony Orchestra
24 January: Kölner Philharmonie, Cologne, with the Simón Bolívar Symphony Orchestra
25-28 February: Walt Disney Concert Hall, Los Angeles, with the LA Philhamornic
3-6 March: Walt Disney Concert Hall, Los Angeles, with the LA Philharmonic
13-14 March: Lincoln Center, New York City, with the LA Philharmonic
17 March: Concertgebouw, Amsterdam, with the LA Philharmonic
19-20 March: Paris Philharmonie, with the LA Philharmonic
21 March: GDJC Concert Hall, Luxembourg, with the LA Philharmonic
22-24 March: Barbican Centre, London, with the LA Philharmonic
For more dates and information, go to Gustavo Dudamel's website >