One man plays an exceptionally beautiful Bach duet on violin AND organ
20 March 2017, 14:55 | Updated: 20 March 2017, 19:35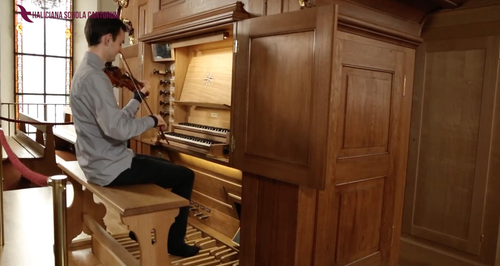 An exquisite duet from the Sinfonia from Bach's Cantata No 156 'Ich steh mit einem Fuß im Grabe'.

Nicolaus Bruhns (1665-1697) was a Danish-German organist, violinist, and composer, much admired by JS Bach and his family. Super-coordinated Bruhns used to play the violin while accompanying himself on the organ pedals.

This inspired Ivan Dukhnych, a Ukrainian-Swiss organist and violinist. In this video he plays one of Bach's most beautiful Cantata moments, the instrumental opening to Ich steh mit einem Fuß im Grab BWV156. The result is quite something:



Ivan is artistic director of Haliciana Schola Cantorum (Education and Research Centre for Early Music and Historically Informed Performance Practice). You can find more information about the project here. Bravo Ivan, and our very best wishes for great things from Haliciana Schola Cantorum.