Bach-ing mad... The life of JS Bach, told through dog gifs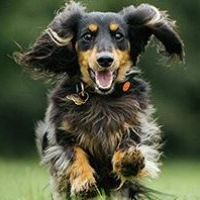 Promoted by John Lewis Finance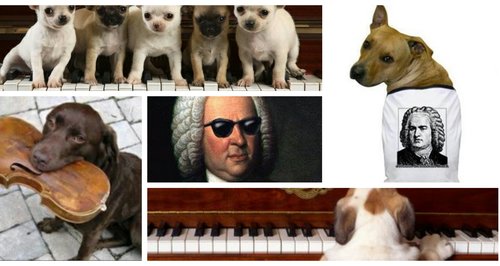 The life of one of the world's greatest composers, illustrated by very cute dogs.
We love the timeless music of Baroque master, Johann Sebastian Bach. We also love dogs, and dogs doing adorable things (especially when it involves a piano)
So we've teamed up with Pet Insurance from John Lewis Finance to bring you the life of JS Bach, as illustrated by cute dogs.
And if you're interested in insurance for the health and happiness of your pet (that won't make you, err, Baroque) visit their website here.
The life of Johann Sebastian Bach - born 1685 in Eisenach
Johann Sebastian was born into a musical dynasty. Uncles, cousins, fathers, cats, dogs; you name it, the Bachs were legendary in musical circles.
The child prodigy
By age 10, Bach's mother and father had both died, he moved to the nearby town of Ohrdruf with his elder brother, Johann Christoph Bach. His brother taught him music, but wasn't too keen on Johann Sebastian copying out his scores. The younger Bach had to sneak peaks at Johann Christoph's music library under cover of darkness. This 10-year-old was getting good, and nobody could hold him back.
The amazing organist
Bach took a choral scholarship at St. Michael's School in Lüneburg. The surname on the CV probably helped. He met all sorts of people, and heard a whole heap of new musical styles. He sang and played the organ; he was very good at the organ - leaps and bounds ahead of anyone else.
Off to see his hero
Bach had an idol, and it was Dieterich Buxtehude. He decided that Buxtehude's famously extravagant Abendmusiken concerts in Lübeck had to be experienced, so the young composer famously made the 250-mile journey on foot. Let's hope he enjoyed the gig.
Getting into fights
The Maestro apparently called one of his students a "nanny-goat bassoonist" - and it sparked a marketplace brawl. Boys will be boys.
The unparalleled virtuoso
Johann Sebastian's exceptional skills at the keyboard were renown throughout Europe - and the art of virtuosic improvisation was a particular gift.
Doing what he did best: church music
Bach took another church job in Weimar, and soon became known as one of Germany's greatest composers and virtuosos, taking on organ pupils from far and wide. He also married Maria Barbara – so happy times all round (for the time being at least).
Then to aristocratic chamber music
Either he'd had enough of the church, or he just fancied a bit of extra shut-eye on a Sunday morning, but Bach soon moved on to pastures new: Prince Leopold's court in Cöthen. Here, he pumped out huge amounts of chamber music. And a good thing too.
And heading to Leipzig
Bach's first wife died suddenly, and the composer got married for a second time - to singer Anna Magdalena Wilcke. Prince Leopold had married too, but his wife wasn't too fond of music. It was time for the Bach family to move on again, and Leipzig it was.
A coffee lover
JSB liked his caffeine hit (must have been all those early Sunday mornings) - so much so he composed what's known as his 'Coffee Cantata.' It concerns the characters' addiction to coffee - and most likely first performed in a Leipzig coffee house, where he'd often have musical afternoons with friends.
A big family
He wasn't just prolific in music - his family was flourishing (he had 20 children in all). His wife Anna Magdalena helped in the music copying, and several of his sons were making big names for themselves as composers and musicians.
His inner geek released
Bach grew increasingly frustrated and disillusioned with the authorities at St. Thomas's Church - so he amused himself in creating large scale, and quite geeky, compositional projects like the Musical Offering and the Art of Fugue.
He left many enigmas
Bach loved number and musical riddles. Many of his great works contain encoded numerological messages and complex things like mirrored sections in contrapuntal studies..
And all sorts of puzzles and fugues
The Musical Offering was a collection of musical puzzles on a single melodic theme - and included something termed the 'Crab Fugue'. So here's a dog with a crab.
Bach, and the future
When Bach died in 1750 his style of composition was considered old-fashioned and rather out-of-date. His sons. composing in new styles, were now considered the hottest things in town. But over the following decades and centuries Bach's music was rediscovered and he became regarded as one of the finest composers in musical history. Many have since tried to imitate, but there's only one.