Petrenko and the Oslo Philharmonic embark on six-date tour of UK
2 March 2016, 16:32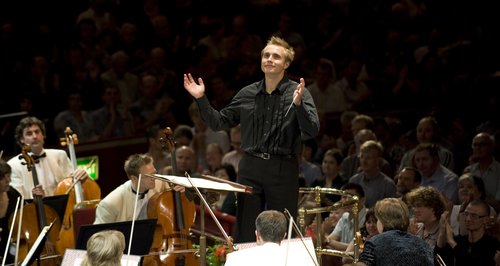 British audiences to experience dynamic partnership of one of Europe's finest orchestras and its Chief Conductor.
Critical and popular acclaim have followed Vasily Petrenko's work with the Oslo Philharmonic Orchestra since he became its Chief Conductor in August 2013. Now they are bringing their distinctive collaboration to the UK with concerts in Manchester, Basingstoke, Birmingham, Bristol, London and Saffron Walden.
Their programmes include Shostakovich's Symphony No.5 and Mahler's Symphony No.5, Rachmaninov's Piano Concerto No.2, with pianist Simon Trpčeski as soloist; and the violin concertos of Sibelius and Tchaikovsky, with Henning Kraggerud on violin.
The orchestra will also play excerpts from Grieg's Lyric Suite, including Gangar, the Nocturne and the Troldtog ('March of the Dwarfs').
"As a British citizen, it has been one of my top priorities to bring the Oslo Philharmonic to the United Kingdom for a major tour," said Petrenko. "...I wanted audiences around the country to hear what the orchestra is capable of achieving."
Tour dates and details
Monday 7th March 2016, 7.30pm
Bridgewater Hall, Manchester
Grieg: Lyric Suite (excerpts)
Rachmaninov: Piano Concerto No.2 (featuring Simon Trpčeski - piano)
Mahler: Symphony No.5
More information and book tickets >
Wednesday 9th March 2016, 7.45pm
The Anvil, Basingstoke
Grieg: Lyric Suite (excerpts)
Rachmaninov: Piano Concerto No.2 (featuring Simon Trpčeski - piano)
Mahler: Symphony No.5
More information and book tickets >

Thursday 10th March 2016, 7.30pm
Cadogan Hall, London
Grieg: Lyric Suite (excerpts)
Tchaikovsky: Violin Concerto (featuring Henning Kraggerud - violin)
Shostakovich: Symphony No.5
More information and book tickets >

Friday 11th March 2016, 7.30pm
Colston Hall, Bristol
Grieg: Lyric Suite (excerpts)
Sibelius: Violin Concerto (featuring Henning Kraggerud - violin)
Mahler: Symphony No.5
More information and book tickets >

Saturday 12th March 2016, 7.30pm
Symphony Hall, Birmingham
Grieg: Lyric Suite (excerpts)
Rachmaninov: Piano Concerto No.2 (featuring Simon Trpčeski - piano)
Mahler: Symphony No.5
More information and book tickets >

Sunday 13th March 2016, 3pm
Saffron Hall, Saffron Walden
Grieg: Lyric Suite (excerpts)
Rachmaninov: Piano Concerto No.2 (featuring Simon Trpčeski - piano)
Mahler: Symphony No.5
More information and book tickets >