Simon Rattle announced as new LSO conductor from 2017
3 March 2015, 10:02 | Updated: 4 March 2015, 13:08
Sir Simon Rattle has been announced as the new music director of the London Symphony Orchestra in 2017.
Rattle was the hot favourite to take the role and has been the subject of much speculation in recent weeks.
The announcement was made at The Barbican centre in London, the home of the LSO, where Rattle commented that he was "coming back for the people."
He also said that he believed he could "move the London Symphony Orchestra further in all directions," and "exploit the extraordinarily vibrant composing scene."
We are delighted to announce the appointment of Sir Simon Rattle as Music Director of the LSO, taking up his post in Sep 2017 #lsorattle

— London Symphony Orch (@londonsymphony) March 3, 2015
Rattle will be going under the title of Music Director rather than chief conductor - the first conductor to have that title since Claudio Abbado.
Feature: what to expect from Simon Rattle at the LSO
He also described the role as possibly his final one: "As I said to the orchestra, this is my last job. We look on each other as a family, we will see how it goes, but it's very much in all our minds that this is a long-term thing. Much as I like fast food, in music I like taking things slowly."
Having a little Q & A with the new Music Director of the @LondonSymphony, Sir Simon Rattle. pic.twitter.com/M0ElUyVLQF

— Classic FM (@ClassicFM) March 3, 2015
The Liverpool-born conductor has been vocal about the state of London's classical music facilities, and has most recently been advocating the need for a brand-new concert hall for the city.
His career so far: 10 iconic images of Simon Rattle

Many interpreted Rattle's enthusiasm for a new concert hall as confirmation that he would take the LSO job when his contract with the Berlin Philharmonic expires.

However, the notion of a new concert hall has proved controversial in some areas, but it hasn't stopped Chancellor George Osborne commissioning a feasibility study into the project.
London's new concert hall: everything we know so far
Rattle mentioned the prospect of a new concert hall in his address, hinting that it might be a possibility as part of his new tenure:
"I wanted to kick start the conversation about an expansion" - Sir Simon on a new concert hall. Says "watch this space"

— Classic FM (@ClassicFM) March 3, 2015
Classic FM spoke to The Times' chief classical music critic Richard Morrison about Rattle's appointment. Morrison commented: "Obviously he's a great conductor of mainstream repertoire, but he'll bring a sense of adventure to their programming: he's amazingly far-ranging in what he conducts."
Morrison also suggested that leading the LSO was one of the only jobs in classical music equivalent to his role in Berlin: "After conducting the Berlin Philharmonic he couldn't have gone to a smaller job... he's been away for quite a few years, and I think he also feels he has a big role to play in the musical life of the country."
Principal flautist with the LSO Gareth Davies found time to take a selfie with his new conductor:
Yes, he's coming. He's here now too just for a quick selfie pic.twitter.com/2GbRg7mzNN

— Gareth Davies (@Flutelicious) March 3, 2015
Meanwhile, LSO Violinist Maxine Kwok-Adams tweeted:
Today is a great day! #rattle

— Maxine Kwok-Adams (@Maxinekwokadams) March 3, 2015
Rattle's history with the LSO goes back to the 1970s and, though his conducting work has taken him around the world, he's been a regular guest conductor since then.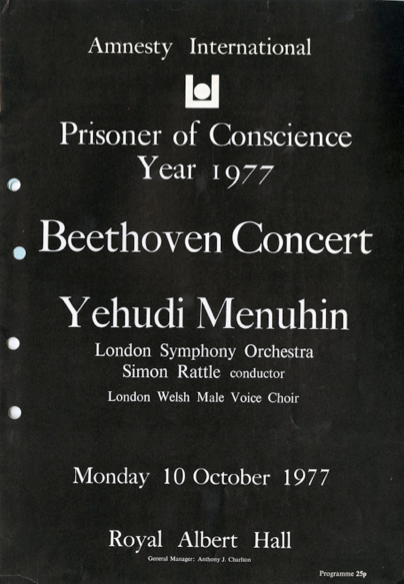 The current principal conductor of the LSO, Valery Gergiev, will leave the post in 2015, when he will join the Munich Philharmonic.