'I haven't met anyone who's said Brexit is going to make life easier for the arts' says Sir Simon Rattle
17 January 2017, 13:54 | Updated: 17 January 2017, 16:35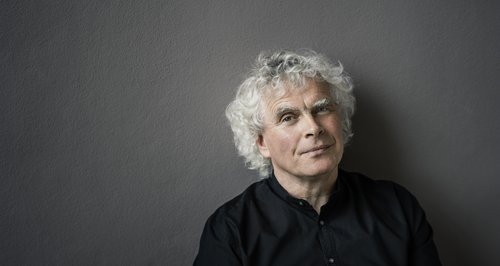 The London Symphony Orchestra – Classic FM's Orchestra in the City of London – today unveiled its 2017-18 season, the first for which Sir Simon Rattle will be the orchestra's Music Director.
Simon Rattle's first season with the LSO, beginning this September, will open with a ten-day celebration at the Barbican, including a 'Silent Symphony' live broadcast to an audience wearing personal headsets in the Barbican's Sculpture Court.
The opening celebration will culminate with an all-Stravinsky programme, including The Firebird and Petrushka, to be live streamed on ClassicFM.com, as well as the orchestra's own YouTube channel.
Just last week it was announced that the City of London had provided up to £2.5m to complete the business case for a new Centre for Music in London.
Sir Simon said: 'There's been a need for a great concert hall in London. For the orchestra to develop and to grow and also simply to be able to do a large swathe of the repertoire, which is simply not possible at the moment, it would be really necessary to have something that worked in a different way – a concert hall for the 21st century.'
Also announced today, is a performance of Stockhausen's Gruppen to take place in the Tate Modern's Turbine Hall, to take place in 2018.
The orchestra unveiled a new ticket scheme, with £5 tickets for all under-18s at the orchestra's Barbican concerts.
Sir Simon told a press conference: 'we have to nourish this art form from the very beginning up. Music education is very patchy and it is sadly now very much a matter of where you live – some areas do very well, some do less well. Everybody is trying to fill in the gaps. Part of the reason the LSO has worked for years with 10 of the poorest boroughs in London is to try and support this type of work.'
He also told Classic FM that Brexit was going to make life more difficult: "I haven't met anyone who's said Brexit is going to make life easier for the arts. Brexit may well be a logistical nightmare – I pity the visa department in the London Symphony Orchestra department. What's clear is that nobody knows a lot of the answers yet, either in Britain or in Europe."
He went on to say, though, that music could be a way of bringing people together: "Music should be a healing art, it should be a way of bringing people together, it's an extraordinary means of communication – and at a divided time it's even more important that that comes across. We need the arts to help make sense of where we are, which is historically a very very strange time."
Kathryn McDowell, the orchestra's managing director, said: "We need to be able to recruit the very best internationally, as we always have done. LSO has very well established inter partnerships and those are set to continue, so we will be cultural ambassadors for the UK, whatever the situation is going to be."