Riccardo Chailly: 'If a female conductor is gifted they are as powerful and meaningful as those in the so-called male tradition'
22 January 2018, 17:02 | Updated: 22 January 2018, 17:27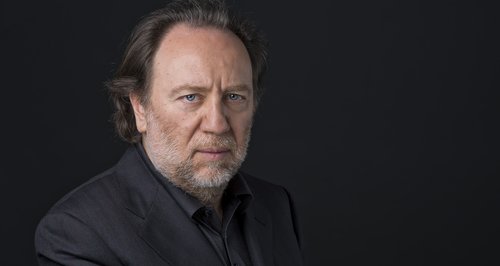 Ahead of a performance with La Scala Philharmonic in London this month, the legendary Italian conductor spoke to us about his favourite composers, the first time he conducted an orchestra… and why women are overtaking men in music.
What's your earliest musical memory?
I was the child of a composer so my earliest memory is lying in my bedroom during the night and hearing my father composing on the piano through the walls.
Were you ever tempted to follow him into composition?
I did study a course of composition in Perugia and then later in Milan – it's unavoidable that a conductor should know all the forms of composition. But I always had a fascination with the sound of a symphony orchestra, since my youth because of the idea of the magic that can be produced by this enormous human instrument with so many different sources of sound.
Can you remember the feeling the first time you conducted a symphony orchestra?
My goodness, we have to go back a long time! My first concert was when I was 14 years old, so I started early. The symphony I'm bringing to London with the La Scala Philharmonic is Tchaikovsky's Fourth and one of the greatest moments in my youth was my debut with the Berlin Philharmonic in 1980 when I conducted this symphony. I was 27 years old. And I remember the impact and power of this piece, this gigantic symphony, played by such a stunning orchestra.
What advice do you have for young conductors starting out today?
To feel natural in front of an orchestra, not to have a feeling of being submissive to the people in front of you – they are waiting for the conductor to give inspiration. The orchestra is a human instrument that needs a great deal of care daily. Try to contain their own artistic views and qualities into your interpretation.
Is there one recording which stands out for you from your career?
I've done more than 200 recordings but there is one that I have to mention. William Tell by Rossini – it was my debut in front of the recording microphones, in London in 1987. It was my first recording with Decca and it was a very daring proposal by the company's then-president – to have the courage to ask me, a 25-year-old, to record the gigantic final masterpiece of Rossini with a star cast – Luciano Pavarotti, Mirella Freni, Nicolai Ghiaurov, Sherrill Milnes.
You're conducting Rossini at the Barbican this month with the La Scala Philharmonic. Is he a composer who's very important to you?
Yes! My very first concert at the conservatoire as a student was the overture of Rossini's Cenerentola and since then I've always had a very unique relationship with this composer. At the Barbican we're starting the evening with the Overture to La Gazza Ladra (The Thieving Magpie) which was premiered in La Scala in 1817, so it can be regarded as the musical flag of La Scala Philharmonic Orchestra.
What role do you think music can play in politics?
This is an art which involves a large amount of human beings performing and listening. I think it's an independent act from politics – as it should be. Politics are necessary worldwide for any country, but art in all its expressions has to keep its own individuality and independence. That, I think, is the secret that in the end brings originality. Music brings understanding between people but it also brings shared opinions, shared ideas, shared emotions. It should be a sort of contagious, positive experience between human beings.
There has been a lot of coverage in the news recently about what life is like for women in music. Do you think life is more difficult for women in music than men?
Before, certainly. Not nowadays. If you look at the major symphony orchestras, the amount of women playing gives you the answer. There is sensitivity, sensibility and flexibility in the female way of music-making that obviously is gaining more and more praise worldwide.
And what about conducting?
The only thing is – as for the men –they have to be gifted. They should be really clearly a gifted person. And if a female conductor is gifted they are absolutely as powerful, meaningful as those in the so-called male tradition.
Which composer would you most like to go back in time to meet?
If I could only have one, it would have to be Bach, without discussion.
But to have a drink with and a long talk, two names come straight to my head. One is Gustav Mahler, whose music I've been working with for about 30 years and still fascinates me. Each time I approach a Mahler score there's a new dimension I discover.
And the other one is Giacomo Puccini. He's a complicated composer, a difficult personality but he wrote great music – and very complex. I could have arguments that would never end with him!
Riccardo Chailly conducts the Filarmonica della Scala at the Barbican on Wednesday 24 January. Find out more here.