Nicola Benedetti thinks you need the Glazunov Violin Concerto in your life - and is here to tell why
17 June 2016, 18:44 | Updated: 22 August 2017, 12:49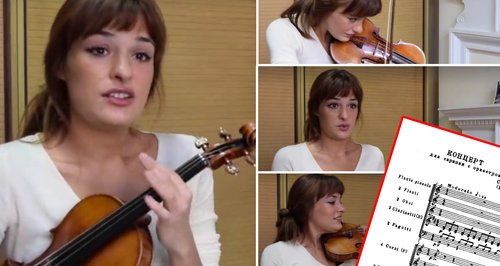 Nicola Benedetti is one of today's very best violinists and on her latest recording (out on 1st July) she's tackling a concerto that's sometimes overshadowed by its more showy colleagues. Here's her guide to Glazunov's masterpiece.
Glazunov's beautiful tunes will blow your mind
Glazunov was a complete natural at writing haunting melodies. "This Violin Concerto is unbelievably lyrical," explains Nicola in her introduction to the work:
And here's Nicola playing two of the gorgeous melodies she mentions:
Glazunov uses what can only be described as thrilling harmony
"The concert has a few interjections of what sounds like much more forward-looking, experimental-style music", explains Nicola:
Here's exactly what Nicola's talking about in a passage from the variations section of the work:
The ending channels Paganini…
Nicola (and anyone else brave enough to take one this concerto) has to tackle a solo part inspired by the virtuosity and showmanship of Sarasate and Paganini in a series of hair-raising variations, as she explains:
Here's one such flashy moment:
But that's not the most challenging element of the concerto…
Nicola Benedetti's new recording of Glazunov's Violin Concerto and Shostakovich's Violin Concerto No.1, is out on Decca on 1st July. Click on the image below to find out more and to buy a copy.