These young musicians interviewing classical stars are utterly heart-warming
27 June 2016, 00:00 | Updated: 27 June 2016, 09:19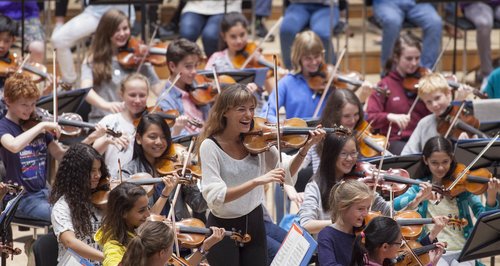 We asked six of the biggest names in classical music – and former members of the National Children's Orchestra – to come in to Classic FM for an interview. But we weren't the ones asking the questions…
The National Children's Orchestras, founded in 1978, have been a training ground for some of the biggest names in classical music. So how better to mark NCO week on Classic FM than with interviews with six former members of the NCO – with current members of the orchestras asking the questions.
Percussionist Dame Evelyn Glennie meets Archie Kneeshaw
13-year-old Archie talked to a fellow percussionist about the importance of youth and amateur music-making… and the terrifying moment a set of drums fell of the stage.
Then they got onto more important matters in a quick-fire quiz…
Conductor Daniel Harding meets trumpeter Christie Smith
The brilliant conductor Daniel Harding started out playing trumpet – so 13-year-old Christie had plenty to talk to him about, including the decline in people playing musical instruments and what that means for the future of classical music.
LSO violinist Maxine Kwok Adams meets Freya Barker
Maxine is a violinist in the London Symphony Orchestra but she's also created a following in her own right with her quirky twitter account. Like her, 14-year-old Freya is a violinist and the pair talked about the joy of encountering different pieces for the very first time with the NCO.
What's in your violin case?
We had a snoop around both Maxine and Freya's violin cases…
Cellist Guy Johnston is interviewed by Aris Sabatei
Aris, who is 13 years old, talked to Guy about how to tackle nerves and how working with young musicians is one of the most rewarding experiences for a professional.
Pianist (and former bassoonist!) Martin Bartlett meets Isabella Worthington
Isabella, who is a 13-year-old bassoonist, met pianist Martin – who played bassoon in the NCO when he was younger. They tackled important matters like how to get the most out of your practice… and why a concert is only ever improved by balloons.
You can also see Martin playing some gorgeous music by Gershwin and Bax over on our Facebook page.
Violinist Nicola Benedetti chats to fellow fiddler, Ella Fraser
Ella, aged 14, met Nicola in one of our radio studios. Here's what Nicola had to say about watching youth orchestras perform:
"I think it can be one of the most powerful and uplifting experiences to go and hear young people play in an orchestra. It's absolutely heart-breaking to me that youth orchestras will be playing to half-filled halls."
And if you or someone you know would be interested in auditioning for the National Children's Orchestras of Great Britain you can find out more at the NCO website. Auditions take place around the country every October – and applications have just opened for this year!