The London Symphony Orchestra and Cypress Hill might actually make THAT Simpsons moment come true
26 April 2017, 20:37 | Updated: 26 April 2017, 20:47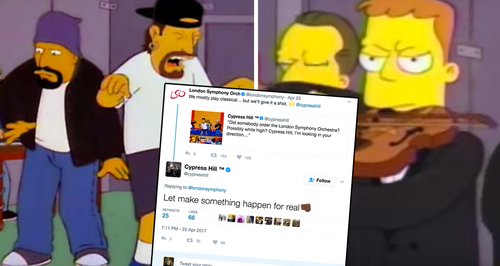 The LSO and hip-hop pioneers Cypress Hill have been talking on Twitter about a particular moment from The Simpsons, and now they might be actually collaborating.
Everyone knows that one of the best episodes of The Simpsons is the one where Homer joins a travelling rock festival (dispute this at your peril). In one key scene backstage, hip-hop legends Cypress Hill are seen trying to remember if they requested an orchestra, namely the London Symphony Orchestra.

Here's the scene:
Well, after an inspired exchange between the LSO and Cypress Hill on Twitter, it looks like this actually might be happening. The two organisations are DM-ing each other.
We mostly play classical… but we'll give it a shot. @cypresshill https://t.co/2XT3Z5tVsJ

— London Symphony Orch (@londonsymphony) April 25, 2017