Andrea Bocelli becomes first classical artist to reach Number 1 in the album chart since 1994
2 November 2018, 18:00 | Updated: 2 November 2018, 18:01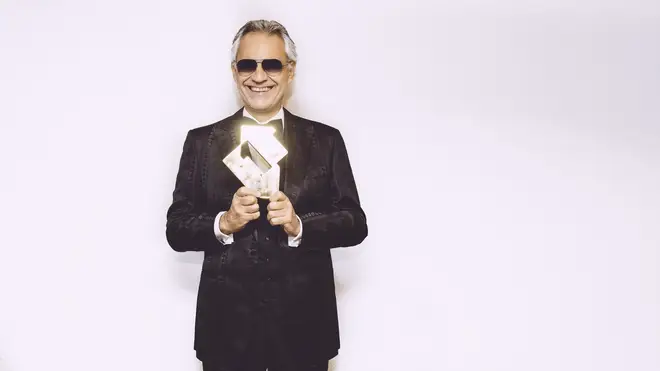 The tenor is the first artist to reach the top spot in the all-genres chart since The Three Tenors in 1994
Today, Andrea Bocelli becomes the first classical singer to top the Official UK Album Chart since 1994, when The Three Tenors reached the top spot.
Andrea Bocelli's Sì was released on 26 October and was this week battling for Number 1 against stiff competition from the soundtrack for A Star is Born – starring Lady Gaga – and Tom Odell's album Jubilee Road.
Bocelli's album is his first album of all-new material in 14 years and features duets with the likes of pop star Dua Lipa, crossover star Josh Groban and soprano Aida Garifullina. It's released on the Decca/Sugar record label and is his first ever No.1 album.
The track 'Fall On Me' is a duet with the singer's own son, Matteo Bocelli, and also features in the soundtrack for the upcoming Disney movie, The Nutcracker and the Four Realms.
Discover the soundtrack for The Nutcracker and the Four Realms – starring Lang Lang and Andrea Bocelli
Andrea Bocelli said: "Life never ceases to amaze. I would never have imagined achieving this, even in a country that welcomed me from the very beginning. Yet beyond the numbers and the charts, what really counts is the affection of an audience – the handshakes, the smiles, the applauses. My heartfelt thanks to all those people who wanted to reward my latest effort. A big thank you also on behalf of my little, great Matteo who, these days, has been living by my side – an indescribable experience."
The last time an album of classical music reached the top of the all-genres chart was in 1997 – James Horner's soundtrack to Titanic.
Bocelli is also on course to reach the top of the Billboard charts in the US.
Rebecca Allen, President of Decca, said: "Andrea Bocelli is a truly unique artist, an artist that continues to define and create cultural moments. We are hugely proud of our work with Sugar Music, and feel blessed to have created a moment that reflects the brilliance and beauty of this artist and album. A day our label will never forget."
Bocelli knocks A Star is Born into second place and Tom Odell's Jubilee Road finishes at Number 3.
Meanwhile, The Greatest Showman continues its record-breaking run in the chart at Number 5.