Go to live concerts, that's where the magic happens, says top pianist
9 August 2016, 10:08 | Updated: 10 August 2016, 12:29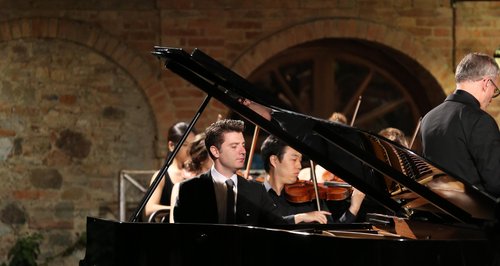 Alessio Bax is one of today's top pianists. Next year he becomes Artistic Director at the beautiful Incontri in Terra di Siena festival in Tuscany. We spoke to him at this year's festival about the magic of live music and the amazing memory of his two-year-old daughter.
What's your earliest musical memory?
Listening to the Toccata and Fugue in D minor – I was really infatuated with the music of Bach for the organ.
How did you end up playing the piano?
I actually wanted to be an organist – because of the love I had for Bach and the organ. I grew up in Italy and as soon as I realised I wasn't good enough to be a soccer star – my neighbours were already much better than me! – music was my next thing. But in Italy, where I grew up, you had to take five years of piano at the conservatory before they let you switch to the organ. And I really didn't want to. But I started and then somehow I fell in love with the piano – pretty quickly actually.
What piece of advice would you give to someone trying to become a professional pianist?
Go to live concerts as much as possible, that's really what makes the difference. My parents used to take me every week to the local symphony orchestras. No matter how many recordings you have in the house you really have to go to concerts, bring children to concerts, experience it live, that's where the magic happens I think.
Is there a piece of advice that you wish you'd been given?
I think what you learn as a child stays with you longer – both good things and bad things. It's very interesting how I can learn a new piece very quickly now but it won't stay in my memory as well when I come back to it a few years later. Whereas there are pieces I played when I was 7, 8 years old and I really don't need to look at the music anymore.
I have a two-year-old daughter [see below] and there's something about a child's memory and their learning process that's quite stunning. We've travelled together through many countries and she still remembers most of the trips. So I my advice is to learn as much repertoire as possible, even if you think you're not mature enough to really understand it completely, you can always go back to it and re-explore it with your newly acquired knowledge.
Which recording or project are you most proud of and why?
I've been very lucky with my label Signum – everybody has a wish-list of what they'd like to record and I'm still going through it and they've never said no to anything. I love the recording I've done with my wife – there's the complete Petrushka by Stravinsky for piano four hands, Brahms Waltzes and some music by Piazzolla – because it's a great showcase of what we do musically and the kind of relationship we have.
And is there a recording or project you'd like to go back and do again?
Everything. That's quite a depressing thing to say, but that's the nature of it. There's no way you can be 100% satisfied with everything, but you evolve as a person so the music evolves and then you go back and revisit it and change ideas, hopefully for the better and that's exciting.
What are you most looking forward to?
I'm taking over the Artistic Directorship of the Incontri in Terra di Siena festival next year, which is a very new chapter for me. We already have a great line-up of musicians – Joshua Bell, Lawrence Power, Paul Watkins, Henning Kraggerud. A great line-up of close friends who love making music together.
Finally, which composer – past or present – would you most like to meet for a coffee and why?
I think Beethoven would be very interesting, although he might be really grumpy and I might have a miserable time and regret that decision. Liszt would probably be great fun to be around and he'd have some great stories. I mean it would be wonderful if any of the great composers was open to sharing their views on music, from Bach to Rachmaninov – living can probably still be arranged!
Photo: Paul Flanagan