Win Mozart Festival tickets and a luxury weekend break in the Lake District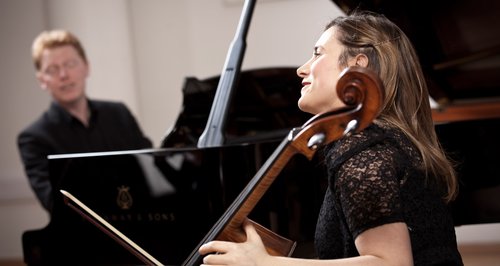 How would you like to enjoy a weekend of Marvellous Mozart concerts, a luxury two-night stay in a four star hotel and a cruise on Lake Windermere?
The Old Laundry Theatre in Bowness-on-Windermere is hosting a full weekend dedicated to the life and works of Mozart and you could be attending the performances, while spending the weekend in the Lake District.
Presented in collaboration with Music in the Round and the world-class musicians from Ensemble 360, The Old Laundry Theatre's Marvellous Mozart festival runs from Friday 19th to Sunday 21st May, celebrating the music and life of Wolfgang Amadeus Mozart with a programme of chamber music delights.
And you could be there with your partner or friend as we have two Dine Out tickets for the Marvellous Mozart recitals on Friday and Saturday evening to be won, plus lunch with the Sunday afternoon recital.
To make a really perfect weekend of it, we'll also include a luxury two night stay with breakfast at Lindeth Howe Country House Hotel on Friday 19th and Saturday 20th May, plus a weekend ticket to cruise Lake Windermere and £250 spending money.
For the chance to win, answer the question below before 23:59 on Monday 1st May.
| | |
| --- | --- |
| | |
The festival opens with an evening concert featuring Mozart at his most irresistible – sophistication, playfulness, insight, wit, disarming charm, and that extra sparkle of magic that marks his music out from everyone else's.
Piano Trio in B flat, K.502
Violin Sonata in A, K.526
String Quartet in D, K.155
String Quartet in C, K465 'Dissonance'
The Violin Sonata in A was written in 1787, the same year that the composer wrote the famous 'Eine Kleine Nachtmusik', and it is known that Mozart accompanied the violinist Heinrich Anton Hoffman in a private performance of the piece in Mainz in 1790.
The work is a true partnership of equals, with the violin and piano sharing wonderfully inventive materials. The finale is playful and uplifting, with endlessly cascading groups of quavers.

Piano Trio, Divertimento in B flat, K.254
String Quartet in D minor, K.421
Piano Quartet in G minor, K.478
The String Quartet in D Minor, the second such piece that Mozart dedicated to Haydn, is a highly engaging work full of wonderful contrasts.
It was written in 1783 and, according to anecdote, was completed even as Mozart's wife, Constanze, was in labour with her first child. Constanze later recounted that the rising figures in the Quartet's second movement were inspired by her cries from the other room!
String Quartet No.16 in E flat major K428
Ave verum corpus (choir and string quartet)
Piano Quartet in E Flat Major K493
Mozart's Piano Quartet in E Flat was completed on 3rd June 1786, just a month after the first performance of The Marriage of Figaro.
From the very opening, with a flourish that resembles a mini-orchestra, the work comes across as a bright and genial piece. The piano part has all the panache of a concerto, but the varied mixing of instrumental combinations is always highly inventive.
---
| | |
| --- | --- |
| | |

The Old Laundry Theatre, Lake District National Park,
Crag Brow, Bowness-on-Windermere, LA23 3BX