Discover beautiful birds of prey at the Hawk Conservancy Trust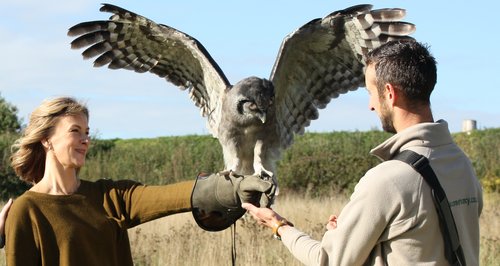 Witness the magic of over 130 birds of prey at the award winning Hawk Conservancy Trust where you can see some of the most spectacular flying displays in the world.
It's all set within 22 acres of stunning woodland with a wildflower meadow in the Hampshire countryside. Enjoy world-class flying demonstrations with hawks, eagles, owls and vultures, plus a new for 2017 keeper talk about secretary birds – 'An audience with…Madeleine'.
A visit to the Trust will have you seeing three world-class flying displays and over 130 birds of prey, from the tiny Pygmy Owl to the impressive Steller's Sea-Eagles.
The morning display will transport you to the African Savannah with Yellow-billed Kites and Owls. The afternoon display, the Valley of the Eagles' brings Hooded Vultures, Black Kites and an epic finale with a Bald Eagle. The final display sees a variety of owls take flight in the Silver Birch Glade.
Experiences offer those that desire the chance to get closer to and learn more about birds of prey at the Hawk Conservancy Trust.
These intimate sessions are limited to six people and offer time with the enthusiastic, knowledgeable and friendly team, the chance to ask questions about their fascinating birds and to handle and fly a selection of birds.
Win a five-year membership & tickets to special Chris Packham event
You and a companion will be able to visit the Hawk Conservancy Trust as many times as you like for the next five years.
You'll also have the chance to meet and fly a variety of owl species with a half day Owl Experience. Also included are two tickets to the sold out Chris Packham's Top Birds – Unplugged and Fully Feathered evening on Saturday 24th June.
For the chance to win answer the question below before 23:59 on Sunday 21st May.
Sarson Lane, Weyhill, Andover
Hampshire, SP11 8DY
Tel: 01264 773 850