Perfect tulip colour collection from just £9.99
29 June 2016, 12:53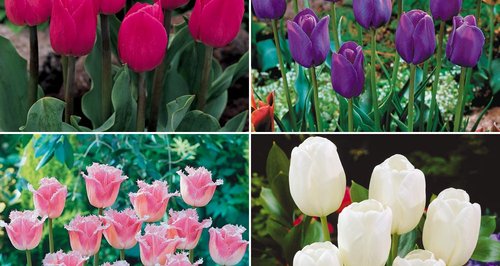 Colour in your garden with the Tulip Perfect Colour Collection - add magenta, purple, pink and white from just £9.99.
Design and colour in your garden: order your bulbs now, plant in autumn and enjoy every spring for years to come.
This wonderful, contrasting Tulip Perfect Colour Collection offers you the best variety in colour and form. They are unforgettable in the garden and truly magnificent as cut flowers. Bulb size 11/12cm. Collection comprises:
Barcelona - in rich, deep magenta
Purple Flag - looking truly regal in deep purple
Pink Fountain - offering you pink blooms frosted with a pure white fringe
White Dream - the purest white, the perfect companion to the others.
Offer:
Buy 16 bulbs for £9.99
Buy 64 bulbs (16 of each variety) for £16.96 – RRP £39.96 – SAVE £23
Buy 64 bulbs (16 of each variety) and 4 Coloured pots for only £26.92 – RRP £56.92 – SAVE £30
Terms & Conditions
Please note that this offer expires at midnight on Friday 24th July. All products and offers are subject to availability. Bulbs will be despatched from September 2016. *Please note that savings are based on the equivalent of multiples of the cheapest pack size.
Find someone on the same wavelength.
Search
Find your perfect match today!
View more profiles »