Bulbs, corms and tubers - we give you the lowdown.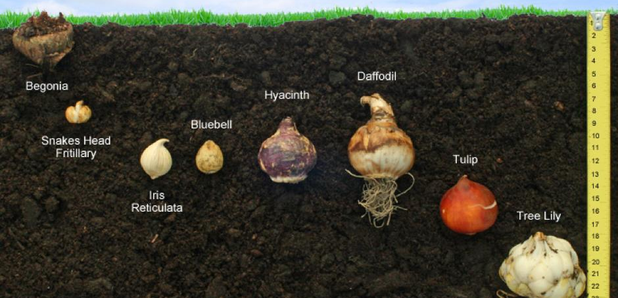 There's something very British about planting bulbs, corms and tubers to ensure colourful displays in your spring garden. Bulbs can be planted in containers or borders and look effective when naturalised in grass, particularly in spring before the rest of the garden has woken from its winter dormancy.
How to plant bulbs
Hardy bulbs like tulips and daffodils enjoy a sunny site with good drainage as they come from areas with dry climates. However, bulbs from woodland habitats, such as snowdrops, thrive in the shade of trees and fences.
Bulbs need to be planted with the pointed tip facing upwards. Most bulbs prefer a well drained soil that won't sit waterlogged in winter as it may cause them to rot. You can improve light or sandy soils with garden compost and heavy soils with compost plus grit.
Growing bulbs in containers
For maximum impact you can plant bulbs in containers. Depending on the planting time and storage conditions, container displays can be prepared for special occasions. When potting up, use a good quality compost with a handful of fine grit to improve drainage. Water bulbs in containers regularly if there are signs the bulb is drying. Bowls or pots without drainage holes should be tipped on their sides after watering to allow the excess to run out. Once the bulbs have finished flowering they will enter a dormant period and you can reduce watering.
How to plant bulbs in grass
Planting bulbs in grass can make a natural impressive spring display. Naturalising bulbs in grass can make an impressive display. For a spontaneous look, scatter them across the planting area and plant each one where it lands. Use a trowel to dig a hole to the recommended bulb planting depth and cover the bulb with soil.
Planting depths for bulbs and tubers
So, you are wondering how deep to plant daffodil bulbs or when to plant tulips . Most bulbs can be planted at a depth of approximately 3 times their own height. However, these planting depths will not apply for containers as the top of the bulbs should just be showing at the surface.
Of course, some tubers are best started off indoors or in a frost free greenhouse before transplanting outdoors. For example, begonia tubers should positioned just below the compost surface and a frost free greenhouse will ensure they will survive.
| | | | |
| --- | --- | --- | --- |
| Bulb/Tuber | Bulb Planting depths | Planting distance between bulbs | Position |
| | 10cm (4") | 10cm (4") | Full sun |
| | 1cm (1/2 ") | 30cm (12") | Full sun, semi shade, dappled shade |
| | 10cm (4") | 7cm (3") | Full sun, semi shade |
| | 10cm (4") | 10cm (4") | Full sun, semi shade |
| | 15cm (6") | 45cm (18") | Full sun |
| | 10cm (4") | 10cm (4") | Dappled shade |
| | 10cm (4") | 15cm (6") | Full sun |
| | 10cm (4") | 8cm (3") | Full sun, semi shade |
| | 10cm (4") | 8cm (3") | Full sun |
| | 20cm (8") | 15cm (6") | Full sun, semi shade |
| | 10cm (4") | 10cm (4") | Full sun, semi shade |
| Ponerorchis tubers | 2.5cm (1") | 7cm (3") | Dappled shade |
| | 8cm (3") | 25cm (10") | Full sun |
| | 10cm (4") | 10cm (4") | Dappled shade |
| | 20cm (8") | 15cm (6") | Full sun, semi shade |
| | 15cm (6") | 13cm (5") | Full sun |
| White Egret Orchid tubers | 2.5cm (1") | 7cm (3") | Dappled shade |
| | 5cm (2") | 5cm (2") | Full sun, semi shade, dappled shade |