The Ayoub Sisters - Melodies from Scotland
The Ayoub Sisters return with their brand new single 'Melodies from Scotland', featuring some of the greatest tunes ever written. DOWNLOAD FOR JUST 0.99p
Glasgow-born classical musicians Sarah and Laura Ayoub, like a life full of great music. Here's proof - a stonking piano improvisation on the big pop song of the moment, Ed Sheeran's Shape of you. And in their pyjamas. That's good commitment to your music.
Listen to 'Melodies from Scotland' here >
The Ayoub Sisters are proud to present their brand new single 'Melodies from Scotland' the piece which was arranged and performed by the girls has been released to commemorate Burns' Night.
The track was recorded alongside the world-famous Royal Scottish National Orchestra and contains a rousing medley of seven famous Scottish anthems, including Flower of Scotland, Auld Lang Syne and Loch Lomond.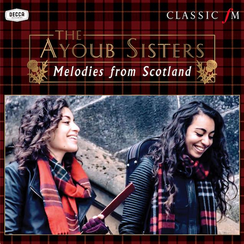 The Scottish-Egyptian sisters thrilled the audience at The Royal Albert Hall when they performed at Classic FM Live in 2016 as the winners of Global's Big Music Project. The girls were chosen from a plethora of entrants, and it is obvious why - the multi-instrumentalist really know how to put on a show, as they swap and change instruments during each performance. They are also able to arrange new pieces of music for all occasions!
Download Melodies from Scotland for just 0.99p now >>
Find someone on the same wavelength.
Search
Find your perfect match today!
View more profiles »