A nice, light and rather healthy lunch or supper dish for June.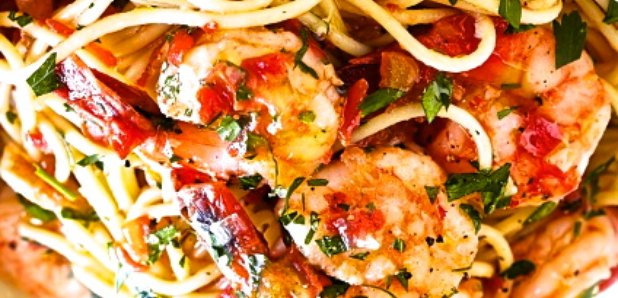 Summery prawn pasta
Saturday 7 June 2014

Anne-Marie Minhall says, "You could use any type of pasta you fancy really but I rather like either linguine or pappardelle. I also love the fact that it doesn't take long to cook either."
Ingredients (serves two)
250g linguine or pappardelle
2 shallots finely chopped
2 cloves of garlic finely chopped
A dozen ripe tomatoes roughly chopped
200g raw prawns
Handful of torn basil leaves
Olive oil
Seasoning
Method
Heat a tablespoon or so of olive oil before adding the shallots and garlic. Cook over a medium heat for about 6-7 minutes taking care not to burn the garlic.
Add your tomatoes and stir in. Some seasoning can be popped in now as well.
Cook your pasta as per the packet instructions.
Heat some more olive oil in a separate frying pan and then add the prawns. You'll need to cook them until they turn pink, no more than a couple of minutes, turning a few times.
Throw the basil leaves into the tomato sauce.
Drain your pasta but reserve a little of the cooking water to add to the sauce. Put the pasta into the sauce and make sure it all gets a generous covering. Finally, add the cooked prawns and serve.