A great dish for a springtime weekend lunch.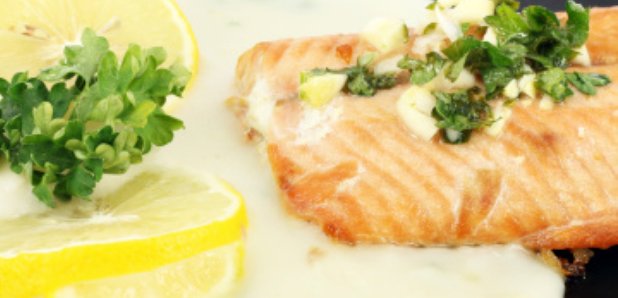 Salmon in parsley sauce
Saturday 5 April 2014

Anne-Marie says, 'One of my most favourite things to eat when I was growing up was boil-in-the-bag fish in parsley sauce. Delicious! This is my grown-up take on that dish using salmon instead of cod. The parsley sauce might just be the easiest sauce you'll ever make. Great to eat for a weekend lunch on a warm spring day.'

Ingredients (serves one)
1 good-sized salmon fillet (skin off)
Seasoning
Juice of half a lemon
For the sauce:
50g butter
50g plain flour
600ml milk
Generous handful of chopped fresh parsley

Method
Preheat the oven to 200C/Gas Mark 6.
Heat a baking dish in the oven. Meanwhile, place the salmon onto a sheet of foil and squeeze the lemon juice onto it before adding some salt and pepper. Fold the foil into a loose parcel and add to the baking dish. It will need to cook for 15 to 20 minutes.
Now for the sauce. Melt the butter in a saucepan before adding the flour. Stir constantly for a couple of minutes until it is a smooth roux . Take the pan off the heat and gradually whisk in the milk.
Return the sauce to the hob and bring to a gentle boil before reducing the heat and cooking for a couple of minutes.
Add the parsley and season before pouring over the salmon.