A one pot wonder - and you can just tuck in with a spoon.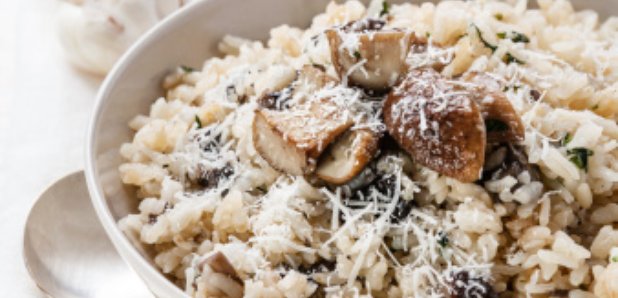 Mushroom Risotto
Saturday 22 March 2014
Anne-Marie Minhall says, "Sometimes, after a long week, all you want to do is eat food which requires just a spoon – or is that just me?! This is a one pot wonder which is both nutritious and delicious. The other good thing about it is that it doesn't take long to cook. So, grab your spoon and tuck in."
Ingredients (serves two)

2 tbsps oil
25g butter
200g risotto rice
1 onion - finely chopped
2 cloves garlic - finely chopped
1/2 red chilli chopped
100g mushrooms (any will do) - sliced
15g dried porcini mushrooms
500ml chicken stock (warm, keep it on a low heat on the hob)
1/2 glass of white wine
100g grated parmesan
Parsley to garnish - chopped
Method
Firstly soak the dried mushrooms in some warm water to rehydrate them. Heat the oil and butter in a frying pan before adding the onion, garlic and chilli and cook for five minutes.
Next, in go the mushrooms, both the fresh and soaked ones. Retain the soaking water, it's full of flavour.
Stir in your risotto rice making sure every grain gets covered. Now pour in a little of the warm stock together with the dried mushroom water until the rice has absorbed it all. Continue adding the stock until it has all been absorbed – about 15 to 20 minutes – before the wine goes in.
To finish, add the parmesan and maybe a touch more butter to give the risotto a final flourish. Scatter the parsley before serving – with a spoon, of course!
Sprinkle in the cheeses and parsley, give it more stir and serve.
And what's this? Yes, a bonus recipe!
This week saw the official start of spring so I thought we might go for a tasty, seasonal soup. This will serve you well for either lunch or as a light supper. It's a great dish for using up whatever is in the veg basket or salad drawer. Minestrone derives from 'minestra' meaning 'soup.' "

Ingredients (Serves four)
Olive oil
1 onion chopped
2 garlic cloves crushed
3 sticks celery sliced
1 carrot diced
2 courgettes diced
100g peas (fresh or frozen)
400g tin cherry tomatoes
400g tin borlotti beans
1 and a half pints of chicken or vegetable stock
30g spaghetti chopped into 1cm pieces (fresh or dried)
Handful of basil leaves
Parmesan freshly grated (as much as you fancy)!

Method
Heat the oil in a large pan and gently fry the onion, garlic and celery until soft.
Add all your vegetables together with the tomatoes, beans and stock. Season and then cover the pan before simmering for around 35-40 minutes.
Next, add your spaghetti and stir in well. Cook for another 10 minutes uncovered.
To serve, tear up the basil leaves and then add the parmesan. A slice or two of a crusty farmhouse loaf, well buttered, would go down a treat alongside the soup.