Anne-Marie's celebration of the sandwich continues with this easy-to-make favourite.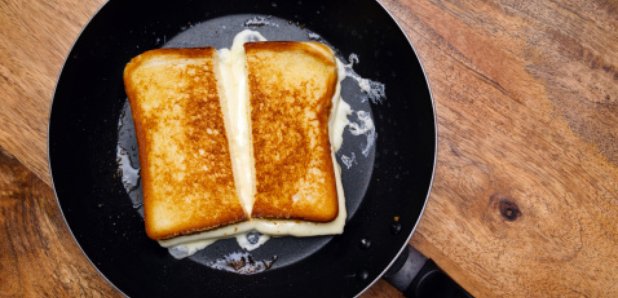 Fried cheese and tomato delight
Saturday 17 May 2014
Anne-Marie Minhall
says, 'Our celebration of the sandwich continues this week with a fried cheese and tomato delight which makes for a great weekend brunch treat. You can use any cheese you fancy; a good, strong cheddar will work well but my favourite is
gruyère because it melts beautifully.'



Ingredients (serves one)


125g Gruyère , grated
1 free-range egg yolk
1/2 tbsp Worcestershire sauce
1/2 tsp mustard powder
1 good-sized tomato sliced
2 slices brown or white bread
Butter for spreading
Seasoning

Method
Put the cheese, egg yolk, Worcestershire sauce and mustard powder in a food processor, (or bowl if you're mixing by hand,) and blend.
Generously butter one side of each slice of bread. Onto the unbuttered sides spread a layer of the cheese mixture. Place the sliced tomatoes on one of the slices. Season before putting the other slice firmly on top of it.
Heat a non-stick frying pan before adding the sandwich. It's ready once it turns golden brown on both sides, a matter of a few minutes, no more.