Anne-Marie Minhall begins a series of special sandwich recipes with the best ever, in her opinion.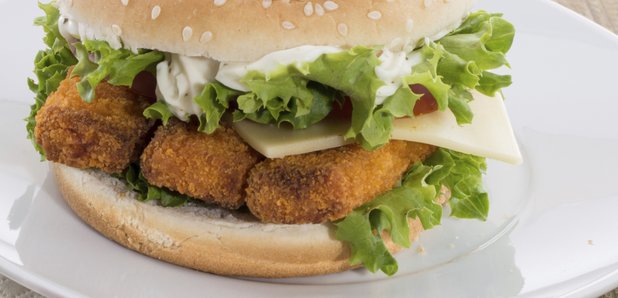 Homemade fishfinger and tartare sauce sarnie
Saturday 3 May 2014
Anne-Marie Minhall writes, "It has been described as Britain's biggest contribution to gastronomy - the good old sandwich. Over the next few weeks, I thought we'd give the sarnie the spotlight. Our first contender for the mantle of Best Ever Sandwich is this."

Ingredients (serves two)
For the fishfingers:
250g sustainable white fish fillet, skinned
50g breadcrumbs (panko ones are excellent)
2 tbsp plain flour
1 free-range egg, beaten
Oil
Knob of butter
Seasoning
Crusy white bread (it's simply got to be white bread!).

For the tartare sauce:
200ml mayonnaise
3 tbsp capers, drained and chopped
3 tbsp gherkins, drained and chopped
1 shallot, finely chopped
Squeeze of lemon juice
Handful of parsley, chopped
Seasoning

Method
Cut your fish into decent-sized fish finger shapes. Cover and place in the fridge for half an hour.
Get three bowls and into one add the breadcrumbs, into another the flour and, finally, the beaten egg into the third.
Dust the fish fingers in flour before dipping in the egg before covering in the breadcrumbs.

Heat the oil and butter in a frying pan. Shallow-fry the fish fingers on either side for around three to four minutes.
While they're frying, get your sauce made and it couldn't be easier.
Mix together all of the ingredients in a bowl and that's it!
Get some generous slices of bread buttered. Once cooked through, season the fish fingers and add to the bread before adding a big dollop of the tartare sauce.