Fancy an eggs-travagant breakfast ahead of Easter?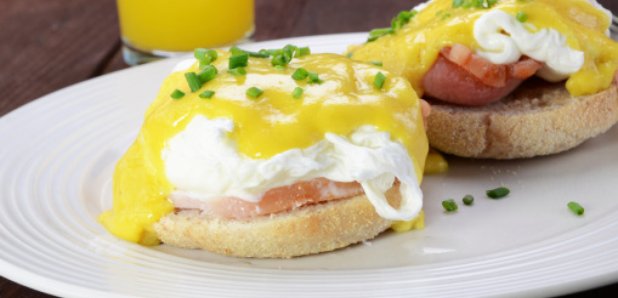 Eggs Benedict
Saturday 12 April 2014
Anne-Marie Minhall says: "This is a particular favourite of mine - a very luxurious affair and something of a treat to be enjoyed now and again. There are lots of variations of this dish but I like to stick to the original."

Ingredients (serves three)
3 organic/free-range eggs
1 tbsp white wine vinegar
3 English muffins
3 rashers of good quality back bacon
Chopped chives to garnish
For the Hollandaise Sauce:
115g butter, cubed
2 tbsp white wine vinegar
1 shallot finely chopped
2 organic/free-range egg yolks
Pinch of sugar

Method
Bring a pan of water to the boil before adding the tablespoon of vinegar and simmering. Carefully, crack the three eggs into the water and gently poach for about three minutes. Remove the eggs from the heat and the pan and put straight into a bowl of iced water to stop them cooking any further.
Now for your sauce. Melt the butter in a pan and then pour into a bowl. Next, bring another pan of water to the boil before reducing the heat and letting it simmer.
Pre-heat your grill ready for the bacon.
Put the two tablespoons of vinegar and the shallot in a small saucepan and bring to the boil. Let this cook for about a minute before removing from the heat. Place the egg yolks in a bowl which can take heat and place over the pan of simmering water. Add some salt and the sugar whisk. Sieve the vinegar mixture onto the yolks and carry on whisking until everything is well mixed. Very slowly, now add the melted butter.
Grill the rashers to your liking and then slice the muffins in half before adding them to the bacon.
Re-heat the pan of water and then pop the drained eggs in for one minute before removing.
Butter your muffins, top with the bacon and then the eggs. Spoon over the Hollandaise, (be generous!) and sprinkle over the chopped chives.
Yum!