Something to see you through the lunch break at the latest Test Match.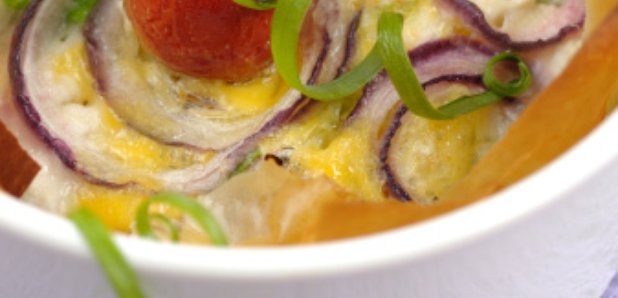 Cricket fan's cheesy tart

Saturday 7 August 2014
Anne-Marie Minhall says, "As a cricket fan, I'm rather partial to making up a picnic hamper so I thought I'd share some of my hamper favourites with you over the coming weeks. First off, a yummy cheese and onion tart. A generous slice served with some salad will see you through the lunch break for the latest Test at Old Trafford."
Ingredients
(serves two)

Ready-made filo pastry (life's too short) 6 sheets
100g butter, melted
2 tbsp olive oil
1 large onion, sliced
150g gorgonzola, cubed
Fresh chives, half a handful finely chopped
Method

Get your oven on at 180C/350F/Gas 4 before brushing the sheets of filo pastry with the melted butter.
Next, in a medium-sized tart tin, you'll need to place the filo sheets in layers.
The pastry then goes into the oven until it's crisp; keep an eye on it but it should take around 5-6 minutes.
Once the tart base is out of the oven, in a frying pan, heat the olive and add the sliced onions until soft and translucent.
Add the onions to the tart base followed by the gorgonzola and the chives. Cook in the oven until the cheese is gooey and soft, about 6-7 minutes should do it.
Be warned, you might need to try a warm slice before letting it cool and packing it, (carefully), for the picnic the next day.