For the start of December, what else could we make this weekend but the Christmas cake?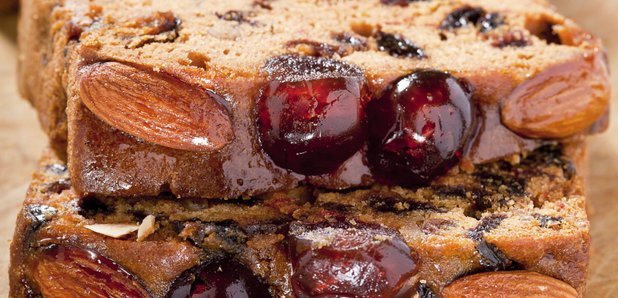 Brandy-soaked Christmas Cake
Saturday 30 November 2013
Anne-Marie says, "Is there any better aroma to have in the kitchen? But try not to repeat my mistake of last year when I fed my Christmas cake with brandy every single day after it was baked. Gulp! It's meant to be once a week - you have been warned. The cake was tasty and packed quite a punch, I can tell you, just ask John Brunning and Jamie Crick! This recipe is a mix of several cakes and do feel free to try different dried fruits. Ding dong!"
Ingredients
1kg dried fruit including raisins, sultanas and currants plus anything else you fancy. This year, I've gone for cranberries, apricots and morello cherries.
100g flaked almonds
200ml brandy plus more for when you feed the cake once baked
1 lemon zested
2 oranges zested
250g light brown sugar (muscovado is best)
3 large free range eggs
250g very soft butter
250g plain flour
3-4 tsp baking powder
1 tsp mixed ground spice
1 tsp ground ginger
Nutmeg freshly grated
Method

First things first - get your fruit soaking in the brandy in a large bowl together with the zest from the citrus fruits. Give everything a really good stir before covering with a lid. Leave the heady mix for three days, stirring once a day.

Pop the oven on at 140C/gas mark 1 and line a deep 23cm round cake tin with a double layer of lightly buttered greaseproof paper.

Beat together the butter, sugar, eggs and almonds in a bowl. If you have a mixer, all the easier but, if not, like me you'll need some strong arm power!

Once well mixed add in the flour, baking powder and spices and stir together before adding that delicous soaked fruit.

Everything then needs to be spooned into the cake tin carefully and levelled out before going into the oven.

Bake your cake for around four to four-and-a-half hours. Have a look at it after two though and, if you think it's already a gorgeous colour on top, simply cover with foil. To check it's cooked through, skewer the centre, it should come out clean.

Leave to cool in the tin before moving into an airtight container. (I leave the greaseproof paper around it to help keep it moist).

With a skewer, make a few holes in the cake and, once a week, feed a few drops of the brandy.