Anne-Marie continues her series of the best sarnies on the planet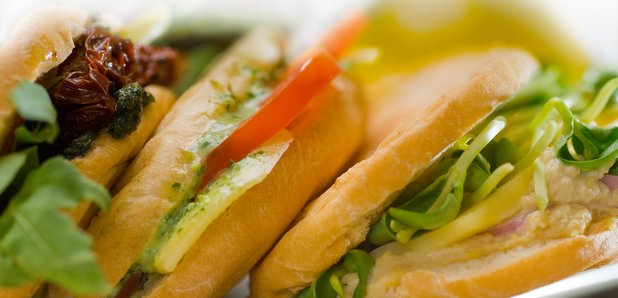 Chicken and pesto ciabatta
Saturday 24 May 2014

Anne-Marie Minhall writes, 'Here's a piece of trivia to impress your friends with this weekend; did you know that, as a nation, we get through 252,000 tonnes of bread a year? The Brits clearly love a sandwich – just saying. This week, it's the final sarnie in our series of the best ones on the planet. There's a touch of Italian here for the Chicken and Pesto Ciabatta, a perfect combination for the warmer days ahead.'

Ingredients - enough for two decent sized sandwiches
1 medium-sized ciabatta loaf
2 cooked chicken breasts sliced
1 clove of garlic chopped
Bunch of basil leaves, (no stalks,) roughly chopped
50g Parmesan cheese finely grated
50g pine nuts
150 ml extra virgin olive oil
Seasoning
Squeeze of lemon if you fancy

Method

Heat a frying pan (no oil) and add the pine nuts, moving them about frequently so that they don't burn, you're looking to lightly toast them. Let them cool before putting them into a pestle and mortar along with some salt and pepper. (Alternatively, you could use a food processor to bring all the ingredients together).

Introduce the garlic before adding the basil leaves gradually and pound them into the mixture to make a paste.
The parmesan goes in next and then start adding the oil slowly. When it's all been incorporated, I like to squeeze some lemon in just to give the pesto a little sharpness, but it's not essential.
Spread some of the pesto onto the halved ciabatta before topping with the chicken.
You'll probably have some pesto leftover, simply pop it into a sterilised jar, pour a little olive oil on top. It'll keep in the fridge for about two weeks.