Italian pianist Alessio Bax has another mouth-watering Italian recipe for us.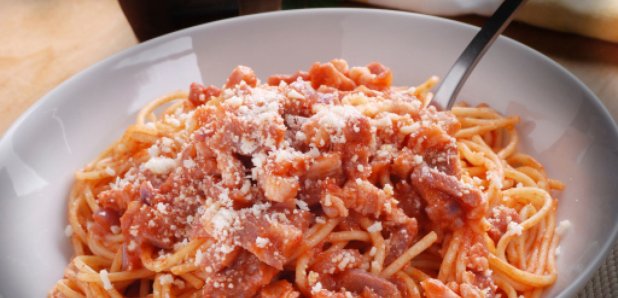 Alessio Bax writes, "This is a traditional and well-known dish from Amatrice, a small village in the Lazio region. The traditional recipe demands that guanciale (cured pork cheeks) be used. Nowadays, bacon is often used as a substitute, although guanciale has a much more interesting, less salty, delicate and exotic flavor. The following is basically the traditional recipe, with a couple of small additions. The use of onion and olive oil in Amatriciana is the source of many an argument, although I favour them. I also like to add a couple of crushed juniper berries as a play on the cured guanciale ."
Ingredients (serves five)
A box of bucatini (I also like spaghetti). Do not use fresh pasta for this.
5 slices of guanciale , cut into ½ cm cubes
½ large white onion
3 juniper berries, coarsely ground
4 tablespoons of dry red wine
1 can (500ml) of peeled tomatoes
1 can, or bottle (500ml) of tomato Sauce
3 tablespoons of Double Concentrate Tomato Paste
A pinch of sugar salt and pepper to taste
2 tablespoons of extra virgin olive oil
A bowl of grated semi-aged pecorino cheese mixed with grated Parmigiano Reggiano

Method

Chop the ½ onion very finely. Sauté it with the olive oil, tomato paste, sugar and guanciale until almost browned. Do not overdo this. The guanciale should become firm; its fat almost translucent, but do not caramelize the mix.
Add the red wine and let sizzle.
Add the peeled tomatoes and crush them with a spoon until they are unrecognizable as whole tomatoes.
Then add the tomato sauce, lower the heat, add the ground juniper berries, salt and pepper to taste.
Let it simmer for at least 30 minutes. When ready it will emanate a deeper smell than fresh tomato sauce, and the oils from the guanciale will have risen to the top.
Stir the whole and let it simmer at very low heat until the pasta is ready.

To prepare the pasta bring a large pot of salted water to boil. Follow the instructions on the box. The pasta must be firm to the bite (al dente ) and salted enough to be tasty when eaten alone. When still slightly undercooked, use tongs to transfer the pasta into the saucepan. Let it finish cooking in the sauce and do not worry if some of the pasta water will end up in the sauce.
Add the cheese mixture and keep stirring.
Buon appetito!