Italian pianist Alessio Bax is our guest recipe contributor. Check out his mouth-watering suggestions.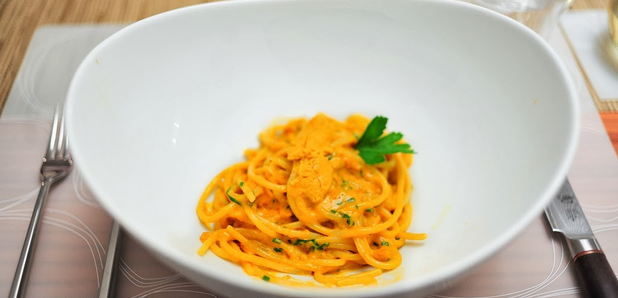 Sea Urchin Spaghetti
Saturday 6 September 2014
Alessio Bax writes, "It has been no secret that I am very passionate about food and cooking. Here's a long-time favourite of mine: Spaghetti ai ricci , sea urchin spaghetti, uni pasta , call it as you wish, and of my guests, whether they were obsessively in love with sea urchin, or whether they previously despised it, this very simple dish seems to always do the trick. I love the rich creaminess of the Santa Barbara sea urchin, which somehow magically creates a creamy sauce, very much like a carbonara (don't ever think about adding cream to either dishes!!) It is a very rich dish, so small portions are recommended."
Ingredients (serves four)
1 large box of Santa Barbara sea urchin
1/2 bunch of chives
1/2 bunch of Italian flat parsley
1 clove of garlic
250 grams of De Cecco spaghetti (my favorite, as they hold "al dente" perfectly well. I wouldn't waste time or money in fancier brands for this dish)
4-5 tablespoons of extra virgin olive oil
Method
Boil a large pot of salted water and cook the pasta. It should be firm to the bite, but not crunchy. Salt to taste. It needs to taste good enough to be eaten on its own. Also you won't be cooking this in any sauce, so it needs to be boiled to the final firmness. Save same pasta water for the sauce.
While boiling the pasta, heat the oil with the peeled, but not crushed (!), garlic clove. As soon as it starts to sizzle, turn it off and toss away the garlic, or it will overpower the sauce.
In a large metal bowl, pour most of the sea urchin in, saving four or more pieces for decoration. add the oil, the super finely chopped chives and chopped parsley and start whipping it with a fork.
Add the cooked pasta as soon as it's ready. I like to use tongs to pull it out straight from the boiling pot, which will have the added benefit of including some pasta water.
Keep whipping the whole think with a fork for a few seconds until it is all amalgamated into a creamy texture. If it seems too dry, add a bit of the pasta water, but don't make the dish liquid. It should be creamy.
Dish the pasta in four bowls and decorate with the pieces of sea urchin, and a little fresh chives and parsley.
Buon appetito!
Tiramisu
This is a very basic, simple and traditional recipe for Italy's king of desserts!
Ingredients

4 eggs separated
500 grams of mascarpone cheese, at room temperature
2 tablespoons of vanilla paste, or the seeds from two pods. Substitute with vanilla extract, if necessary
A drop of cognac, or whisky
Powdered sugar (taste the mix to know the quantity. The mix should be as sweet as you want the final Tiramisú to be, as the coffee will make it more bitter but the sugar on the cookies will sweeten it a bit)
Dark, bitter and strong espresso (a few cups, as needed). Make sure you don't just let the espresso machine run and keep adding new coffee grounds for each shot.
A pinch of salt
Savoiardi cookies (Italian ladyfingers)
Bitter cocoa powder
Dark chocolate, to be finally shaven (at least 70% cocoa)
Method
Whisk the egg whites in a metal bowl, with a pinch of salt, until stiff
In a separate metal bowl mix Mascarpone, vanilla, yolks and sugar until evenly combined
Fold in the egg whites
Combine the espresso (wait for it to cool or add a couple of ice cubes) and the alcohol in a bowl and dip the Savoiardi until softer but not soggy.
Assemble the Tiramisú in layers in a ceramic or glass cake pan of any shape.
Cover and refrigerate overnight
Sift cocoa powder on top of the Tiramisú, and shave some dark chocolate with a vegetable peeler right before serving.