Find out more about the wines featured in Laurence's show, every Sunday at 12pm on ClassicFM and enjoy tasting along with Laurence and Tom Laithwaite.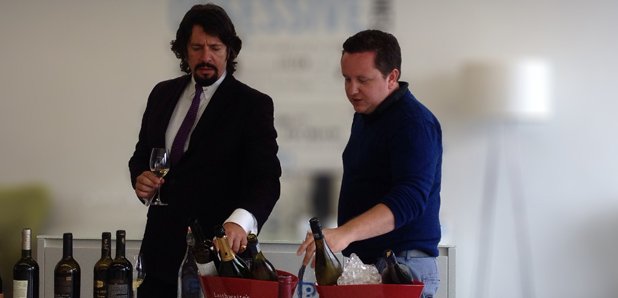 Classic FM have teamed up with Laithwaite's Wine to make your Sunday lunch extra special. Fine wine and fine music in perfect harmony with Laurence Llewelyn-Bowen on his Sunday show 12-3pm, from Sunday 29th September until Sunday 22nd December.
Laurence will be joined by Tom Laithwaite in the studio to taste and recommend a different wine each week and Laithwaite's Wine have created an exclusive case of delicious wines for you to to get involved too!
So why not taste along each Sunday and enjoy a taste of the finer things in life with this collection of classic wines. Carefully selected with Classic FM listeners in mind, this delightful dozen is worth £133.88 but is being offered to exclusively to you at only £83.88, saving you £50. The case includes a smooth, gold medal winning Bordeaux and a refreshing New Zealand Sauvignon Blanc, ensuring that every bottle is guaranteed to delight
The offer also includes
Tasting notes to accompany each wine
FREE bottle of award winning sparkling wine from Limoux
FREE Delivery
Order your Soundtrack to Sunday Lunch show case and taste along with Laurence Llewelyn-Bowen each week by calling their award-winning customer service team on 0800 955 5880 and quoting SUNDAYWINE or go to Laithwaites.co.uk/sundaywine.
Take a look at the wines we will be featuring each week in the list below:
29 September:
| | | |
| --- | --- | --- |
| Château Samion Montagne ST EM AOC 2010, France | Smooth and elegant with ripe berry flavours and long, complex finish. | |
| 6 October: | | |
| Shingle Peak Reserve Sauvignon Blanc 2012, New Zealand | Crisp and racy with loads of aromatic, citrus and tropical fruits. | |
| 13 October: | | |
| Alta Tierra Syrah Reserva, 2009, Elqui, Chile | Lots of ripe blackberry with notes of cedar and white pepper. | |
| 20 October: | | |
| Les Dix Du Pallet Muscadet Sur Lie, 2012, France | Lemon, apple and pear character with a hint of ocean freshness. | |
| 27 October: | | |
| Palacio Del Conde, Gran Reserva, 2006, Spain | Silky smooth. Summer berry and plum flavours with hints of vanilla. | |
| 3 November: | | |
| Red Heads Tomahawk Shiraz, 2011, McLaren Vale, Australia | Rich, voluptuous Aussie Shiraz handcrafted by star RedHeads winemaker Adam Hooper. | |
| 10 November: | | |
| The Huguenot Chenin Blanc, 2012, South Africa | Well balanced with fresh fruit, hints of honey and a light creaminess. | |
| 17 November: | | |
| Le Prince De Courthézon, Côtes du Rhône AOC, 2012, France | Full-bodied, deep black berry fruits, gentle tannins and spice. | |
| 24 November: | | |
| Sendero Des Santos Albarino, 2011, Spain | Delicate ripe stone fruit, yet racy, fresh and beautifully balanced. | |
| 1 December: | | |
| Forefather Gran Reserva Selección Malbec Shiraz, 2010, Argentina | Silky, well structured with ripe fruite, juicy tannins and long finish. | |
| 8 December: | | |
| Selvascura Principe Strozzi, IGT, 2011, Italy | Dark cherry and black fruit characters balanced by rounded tannins. | |
| 15 December: | | |
| Charles Smith Black Crown Cabernet Sauvignon, 2011, USA | World class Cabernet from one of the most highly awarded and talked about winemakers in America | |
| 22 December: | | |
| Roche Lacour, AOC, Crémant de Limoux 2011, France | Classy, award-winning fizz from Limoux - the first place ever to make sparkling wine | |
A bit about Tom Laithwaite

Laithwaite's Wine Director and Tony and Barbara Laithwaites youngest son Tom, is at the forefront of the business. He is currently lending his voice to a weekly slot on Classic FM with Laurence Llewelyn-Bowen and a regular host of customer tastings across the country.

Tom hasn't always worked at Laithwaite's Wine. Having grown up with all his family in the business, after finishing his education he decided to create his own path. Tom stayed close to the world of wine and beer within the hospitality industry managing pubs and running bars. He was eventually persuaded to work in the family business and went off to Australia and worked at the Sydney office for 3 years. There he absorbed himself in to the Australian part of the business, copy writing, marketing and wine production.

Once back in the UK, to further cement his knowledge of the company Tom joined the events team – hosting, talking and pouring wine for the customer events. Now, as a Director, he continues with hosting customer events, supports the wine production side of the business and lends himself to be the voice and face of Laithwaite's Wine.