Jane Jones joined Classic FM in November 1992 and has been with the station ever since. Here she gives us a minute of her time to answer some revealing questions about her life and Classic career!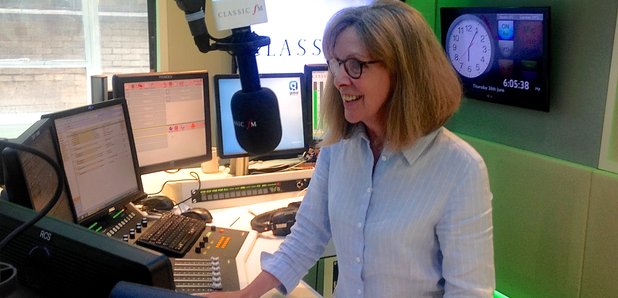 If you could sit down and have a coffee with one great composer, who would it be?
JJ: Johannes Brahms . He had the most fascinating life and composed some of my favourite music. He also knew everyone - from Strauss to Wagner and Tchaikovsky , and was a mentor to Dvorak and Grieg . And can you imagine getting him to open up about his relationship with the Schumanns ? That would be a scoop! Although he'd probably tell me very rudely that it was none of my business!
Who was your favourite ever interviewee or guest?
JJ: Edna Healey. I interviewed her when she'd written her inspiring biography of three fascinating women called Wives of Fame. We spent the best part of an afternoon talking about her life, politics, her own interests - and I found her more fascinating than the women she'd written about! She was both considerate and kind to me, while her fierce intellect and passion for life were inspirational. She was unforgettable.
Who would be your four perfect dinner party guests?
JJ: Janet Street Porter, Yo-Yo Ma , Baroness Shirley Williams and Paul Morley. I don't know if they'd get on – but I'd have a wonderful time listening to them!
What was your most embarrassing on-air moment?
JJ: I thought I only had a minute! Usually I blame technical failure!
What was your first pet?
JJ: Leroy, a stray cat who adopted us.
What's your guilty pleasure?
JJ: Daydreaming.
If you could be a musical instrument, which would you be?
JJ: 'Cello.
What was the most memorable concert you attended?
JJ: The first UK gig for Bruce Springsteen & the E Street Band at the Hammersmith Odeon in 1975 and, on the classical front, the London Symphony Orchestra with Michael Tilson Thomas performing Mahler's First Symphony.
What's your favourite way to relax?

JJ: In warm sunshine, by water, with a book.
Which superpower would you like to have?
JJ: Instant transportation.
What's your favourite snack when you're feeling a bit peckish in the Classic FM studio?
JJ: Dried fruit mix.
What ambition are you still to fulfill?
JJ: To sing in tune.
What is your all-time favourite piece of music:
JJ: Bach's Cello Suites.
And your all-time favourite book?
JJ: Barbara Kingsolver 'The Poisonwood Bible'.
And film?
JJ: Saturday Night Fever. It's one of a handful of films I could have chosen, but it's the one that has everything. I loved that opening scene with Tony strutting down the street, the white suit, the dance moves. Pure nostalgia now, but if you went to a disco in the seventies - this felt real.